Back by Popular Demand (Ended April 2010)
The Carl Brashear 'Dream to Dive Exhibit' has been restored by popular demand.

The exhibit, which ended on June 7, 2009, in its original format was an outstanding success in the Hampton Roads community and enjoyed a tremendous amount of admiration and attention from all who experienced it at the Nauticus Maritime Center. The exhibit is now back and relocated on the second level of the Nauticus Maritime Center directly across from the entrance to the Battleship USS Winsconsin. Access to the second level is free to the public.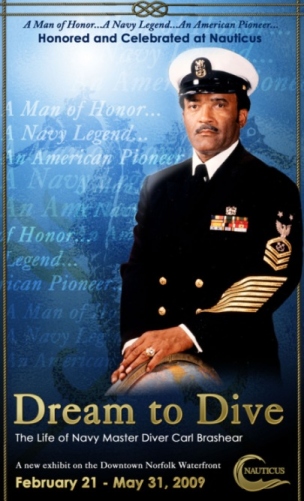 Also as an added bonus, the Battleship Wisconsin tour has been expanded to show the aspects of shipboard living for sailors who sailed her. This is a must-see, once in a lifetime event for the whole family to share..
Dream to Dive Exhibit: The Life of Master Chief Carl Brashear
(Feb 21 – June 7, 2009)
The Nauticus Maritime Center in Norfolk, Virginia has unveiled its newest exhibit honoring the life of Hampton Road's most celebrated sailor, United States Navy Master Chief and Master Diver Carl Brashear.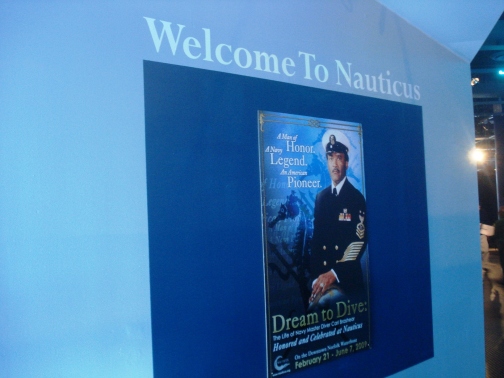 This is the first museum display of this magnitude ever to have been done in Carl Brashear's honor. Mr. Brashear's life and legacy is no stranger to the average American. Portrayed in the 20th Century Fox blockbuster movie 'Men of Honor' starring Cuba Gooding, Jr. and Robert Deniro, this courageous man's accomplishments during the course of his naval career are displayed for all to enjoy. The added bonus to this display is the fact that Carl Brashear spent nearly 45 of his 75 years of life in the Hampton Roads area of Virginia, giving the center 'hometown Hero" bragging rights. His final resting place is minutes from downtown Norfolk at Woodlawn Memorial Gardens on Virginia Beach Blvd. In a collaborative effort, the Nauticus Maritime Center, together with Carl Brashear's sons, Dawayne and Phillip, have raised the bar to another level by opening an elaborate 3300 sq. ft. exhibit hall depicting Carl Brashear's life. On display are two of Mr. Brashear's prosthetic limbs that he wore while diving, working out and on dressed occasions, a life-sized Mark V Dive Suit, a movie section that plays scenes from Men of Honor, and an awards and honors area. The exhibit also boasts an interactive area for kids where they can actually try their skills at the demanding physical exercises that enabled Carl's remarkable return to active duty as a Navy diver after the loss of one of his legs in an accident. "My grandpa was so brave, and I want the whole world to know." said eight-year-old Tyler Brashear. "Tyler has fond memories of his grandfather Carl, and he can now share them with others all over the world," said Carl's son Phillip. Multiple display monitors are fixed throughout the exhibit to give documentary footage for the public to observe.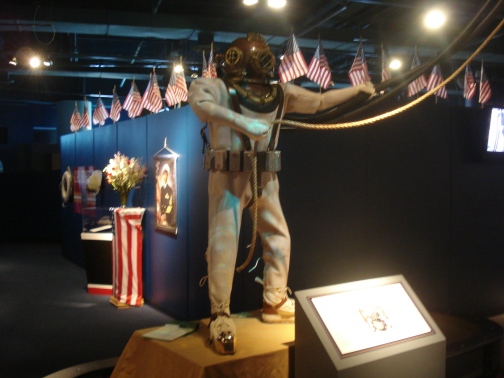 Martha Walker, Tim Scott, Rolf Johnson and a host of other Nauticus employees and volunteers worked diligently to complete the project in just over a two-month time-frame. During the "Members' only" preview held on Friday evening Feb 20th, Rolf stated that this project was a 'labor of love' as his crew performed their work flawlessly. Carl's sons Dawayne, Phillip, and Patrick, were on hand. Randy Brashear, (Carl Brashear's grandson by deceased son Shazanta) and Ron Brashear, (Carl Brashear's nephew from his deceased brother Haskell) from Atlanta, Georgia were also in attendance. Everyone present was awestruck as they witnessed history in the making. "We hope that everyone who screens this exhibit will leave with the mindset that no dream is impossible provided that you are willing to put forth the hard work and perseverance that it will take to accomplish their goals." said Carl's youngest son Patrick. "Our father represented honor to the highest degree and that makes us so proud," added Dawayne.
The exhibit has a limited engagement time until the 7th of June so be sure to travel to Norfolk, Virginia to witness this astounding moment in American history.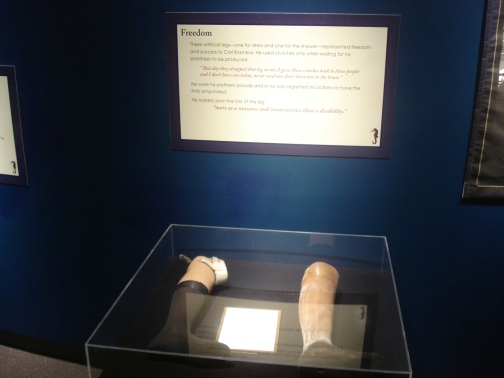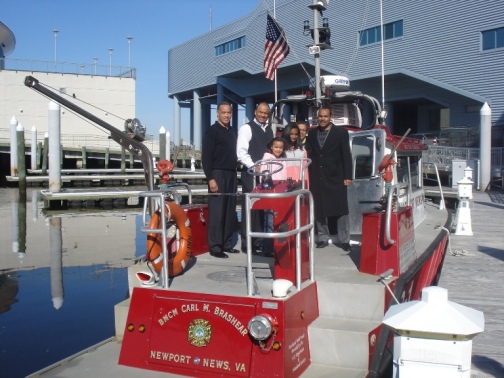 Reflections. . .The Early Years
The Nauticus Maritime Center in downtown Norfolk, Virginia was the setting of the latest event involving the Carl Brashear 'Dream to Dive' exhibit. Dawayne Brashear, Carl's oldest living son opened his own one-man show titled 'Reflection…The Early Years'.
During this presentation, Dawayne informs the audience of how his father's life influenced him and the family environment during his childhood. Dawayne describes his presentation as a way of giving the public a much more in-depth look at the man Carl Brashear was. Carl Brashear life includes so many details and events that the movie, Men of Honor could have never told in a two-hour time-span. Now that Dawayne has this production in place, many can share in the never-before told stories that provide a 360 degree description of Carl Brashear. Dawayne and his brother Phillip see this as another way to spread their father's story and to help others find the determination in themselves that Carl did.
Dawayne Brashear, age 52, is a Virginia Commonwealth University graduate in design. He also works as a model, actor, and an interior designer in the New York area. He is also the father of Lauren Brashear who serves as the ship's sponsor for the 400 million dollar Navy ship, the USNS Carl Brashear. This ship is currently serving the United States Navy under the Military Sealift Command on the west coast.
Nauticus honors diver who rose above racial barriers
The Tom Joyner Morning Show
On April 24th 2009 at approximately 0745 hours, the Tom Joyner Morning Show gave a tremendous shout-out to the late Master Chief and Master Diver Carl Brashear and the Nauticus Museum.
Mr. Joyner informed his crowd of 30 million-plus of the life of Carl Brashear and his exhibit in the Nauticus Maritime Center in Norfolk, Va. Mr. Joyner always does his little-known Black History facts around that time and this day was for Carl Brashear. Tom Joyner showed much respect for the life of Carl Brashear as did his celebrity hosts to include J. Anthony Brown and Sybil Wilkes. Tom Joyner also had taped interviews with Carl's sons Dawayne and Phillip. Tom Joyner also allowed the story of Carl Brashear to appear on blackamericaweb.com. Tom Joyner serves as an icon among African-American people and always leads the cause of promoting African-American pride wherever he goes. Many thanks to Mr. Tom Joyner!!!
Links
Menu
External Links