The Legacy Lives On
Master Diver Carl "Maxie" Brashear was not born with a silver spoon in his mouth and didn't always carry a name that was synonomous with 'Honor'. As a matter of fact, throughout his life Carl was a very humble man that merely carried to passion to succeed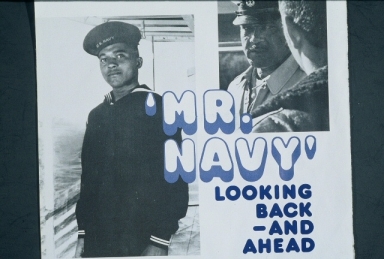 "Mr. Navy" Looking back - and ahead
He did not want any special treatment when he went through training or was tested to become the most elite of Navy divers. But, he was treated different and had many additional obstacles placed before him at just about every turn in his life. Instead of bowing to others and giving up, Carl pushed onward and persevered through, over and around every challenge placed before him.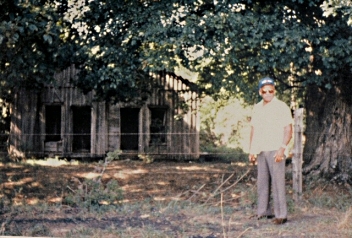 Carl stands in front of his beginnings, complete with an outhouse, on a sharecropper farm in rural Kentucky
After losing his leg during duty, many would have given up. Carl just saw it as another obstacle and challenge. He was so determined to achieved his goals, that he hid his pains and worked even harder to become the very best diver in seas. It was his internal fortitude and belier in himself that was admired by not only his peers, but by the world. As Carl would say, 'It is not a sin to get knocked down. It's a sin to stay down'. Staying down was not an option in the eyes of Carl "Maxie" Brashear. There was too much to accomplish. At his passing in July 2006, Carl still did not like being in the spotlight. He did not want any special treatment as in his eyes he was only doing his job and, just like any child today, he strived to live his dream.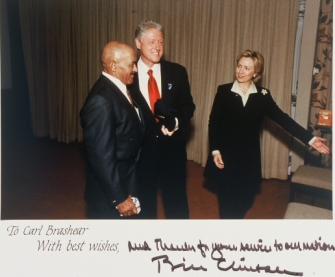 Former President Bill Clinton and wife, Hillary, entertain Carl in the White House
With two of his sons, DaWayne and Phillip Brashear, taking the baton of their father's legacy plans are being discussed on how to best preserve Carl's past so others can learn and be inspired. While overcoming many obstacles in life, Carl never lost focus on his dream and did everything in his power to reach is goal of becoming a Navy diver and proudly serving his country. Already discussions are being held with multiple museums on how his legacy can be preserved so people of all walks of life can not only learn of Carl but be inspired to take new steps in life.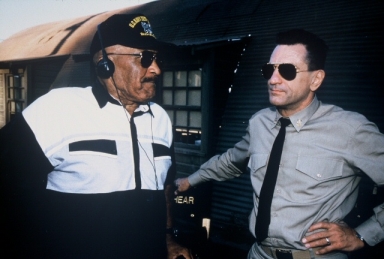 On the movie set with Robert Deniro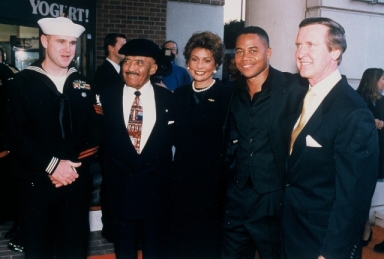 Carl Brashear and Cuba Gooding, Jr., along with former Secretary of Defense William S. Cohen, his wife, Janet, and Petty Officer 1st Class Eric Tilford, for Washington D.C. screening of Men of Honor
Menu
External Links