Brashear's Legacy Lives on at Radcliff Veterans Center
November 17, 2017 | Katerine Knott - The News-Enterprise
Phillip Brashear doesn't want someone to think one day that his father, Carl M. Brashear, didn't exist or his story about becoming a U.S. Navy master diver is a myth. To prevent this, he talks about his father whenever he can. He's shared his story at the White House, Pentagon and numerous other occasions. "This was a man that actually lived," he said. "Look at what he went through." Brashear became the first black master diver in the Navy in 1970. He fought to continue his diving career after he lost his left leg. His story gained prominence in the 2000 film, "Men of Honor." He died in 2006.

The Radcliff Veterans Center, which opened earlier this year, officially was renamed for Brashear during a dedication ceremony in November, 2017. It caps a two-year effort by local residents who worked to have the facility named for the Hardin County native.

"He's a living legend with this," his son said during his keynote address Thursday. "His name will last forever." More than 500 guests attended the dedication ceremony, including several members of Brashear's family. Many speakers said naming the facility after Brashear would honor his accomplishments and share the lessons of his life. "Master Chief Petty Officer Brashear was an icon, bigger than life, but someone who sets (an) example of how to act in adversity," said Lt. Gov. Jenean Hampton who spoke at the ceremony. Hampton said she was familiar with Brashear's story through the movie, and it stood out how he didn't accept others' low expectations or take no as an answer. "Certainly, Carl Brashear earned this honor and he will be remembered," Hampton said.

For Brashear, his father's story is a testament to the power of not giving up. Brashear said his father had to overcome poverty, literacy, a disability, substance abuse and major societal barriers in order to become a master diver. "None of us have any excuse not to try to achieve our goals," he said. Brashear was flying helicopters in Iraq when his father became ill. He returned home and spent five days in the hospital with him until he died. He said those days were some of the best times they'd shared. "He taught me from a hospital bed that I have nothing to complain about," he said. Brashear added his father also taught him to take care of his family and about the value of work, education and having a belief in something greater.

During the ceremony, Brashear recognized 10 donors who purchased commemorative challenge coins for residents of the veterans center. The coin serves as a reminder of Brashear and is inscribed with his mantra, "It is not a sin to get knocked down, but it is a sin to stay down." U.S. Army veteran Allan Francis handed than 200 coins to Veterans Center Administrator Israel Ray. Members of the Combat Veterans Motor­cycle Association presented the family with a plaque commemorating the facility's dedication. Chapter commander William Pendleton said it was incredible to be part of the ceremony. "Not only as a veteran but as a black man and soldier, to see what he went through and how he kept going. ... It allows me to keep going," he said.

Bob Casher, a member of the association, nominated Brashear for the honor. He started the campaign almost two years ago and worked to collect more than 7,000 signatures in support of naming the center after Brashear. "I've always had an appreciation and passion for what he accomplished," he said. Casher collected signatures, did media interviews and put a packet together in order to nominate Brashear. He said he sent the packet to everybody. He wasn't going to give up on the effort. He hopes Brashear's name and story will motivate those who reside at the center as well as younger generations who visit the residents. "I'm so pleased," he said. "(It's) heart­warming to know it's actually happening."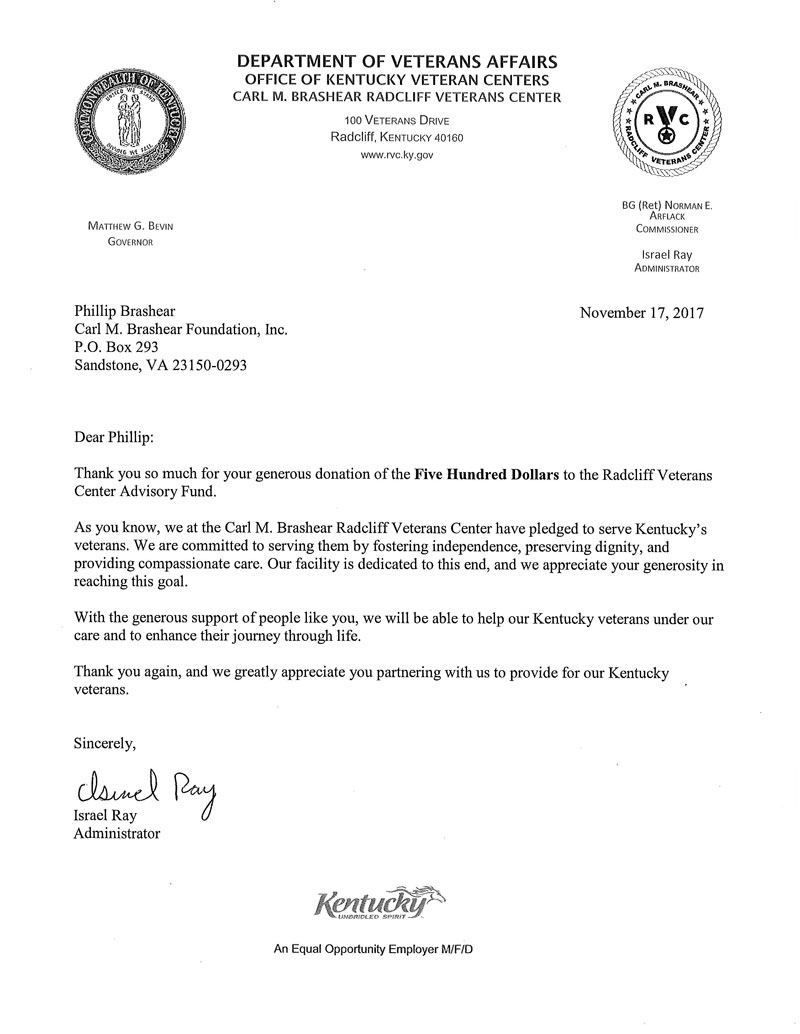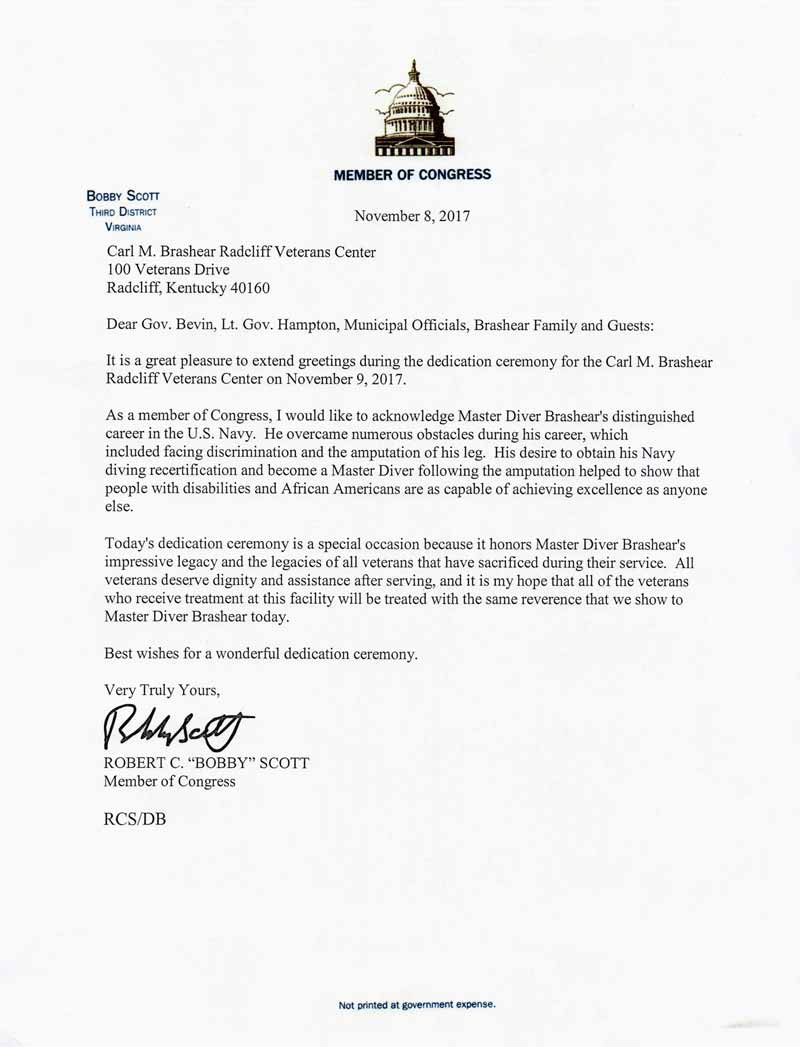 Tony Palm talks with Greg & Hollie about renaming Radcliff Veterans Center on 98.3
Oct 11, 2017 | WQXE Quicksie 98.3 was live at 2:18pm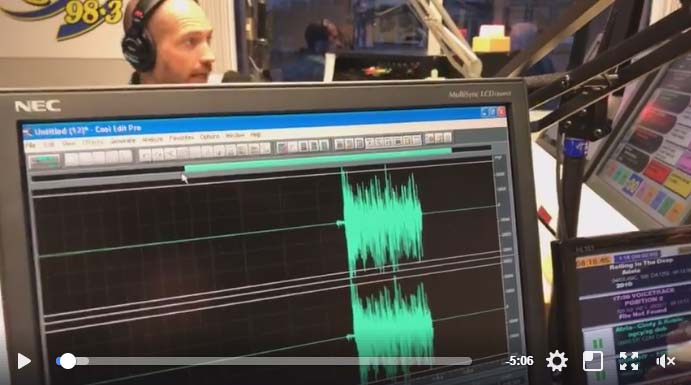 Tony Palm talks with Greg & Hollie about renaming Radcliff Veterans Center on 98.3
Radcliff Veterans Center Honors Sonora native
Oct 1, 2017 | Mary Alford, The News-Enterprise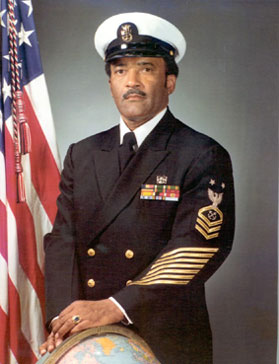 Radcliff Veterans Center soon will be renamed after a man who broke the color barrier in one of the most intransigent communities of the U.S. Navy: deep-sea diving.

The Kentucky Depart­ment of Vete­rans Affairs announced Radcliff Vete­rans Center — the state's newest veterans home — will be named for Master Chief/Master Diver Carl M. Brashear.

Brashear, a native of Sonora, rose from poverty and became the first black master deep-sea diver in the U.S. Navy. He later fought to continue his undersea career after he became an amputee.

To his legacy, Brashear was the only amputee deep-sea diver to reach the status of master diver. Brashear retired from the Navy in 1979, after more than 30 years of service.

The Carl M. Brashear Foundation's Special Relations and Development Officer Tony Palm said Brashear was an extraordinary American and role model, who followed the mantra "It is not a sin to get knocked down, but it is a sin to stay down."

"He inspired many people," Palm said.

Mark Bowman, executive director of Kentucky Veterans Centers, said the state veterans affairs department, after considering all input, felt it appropriate to recognize the Kentucky native, who achieved things most would only dream of achieving, overcoming several adverse circumstances and obstacles. Bowman said the veterans center will honor Brashear's legacy.

Palm said Brashear was a man of honor, with unbelievable dedication and courage.

"Carl Brashear never allowed discrimination or a physical handicap to keep him from his dream," he said.

Brashear died July 25, 2006, at 75.

He was portrayed by Cuba Gooding Jr. in the 2000 movie "Men of Honor," which also starred Robert De Niro.

To commemorate the name change, there will be a dedication ceremony of the Carl M. Brashear Radcliff Veterans Center tentatively set for 10 a.m. Nov. 9, which will feature Brashear family members and representatives of the Carl Brashear Foundation. Kentucky Gov. Matt Bevin and Lt. Gov. Jenean Hampton have been invited.

One of the speakers is Phillip Brashear, founder and current president of the Carl M. Bra­shear Foundation and son of the Navy master diver.

In Phillip Brashear's bio, it said he and his brother, Dawayne, launched the foundation to "use their father's life as an example of how faith, strength, humility and dedication can show the world that racism, illiteracy, poverty, physical disability and substance abuse cannot defeat the human spirit. These were Carl Brashear's 'Five Hur­dles' that he overcame, to become one of the most celebrated Amer­ican Navy divers in history."

Phillip Brashear is a civilian employee of the Defense Logistics Agency as a U.S. Air Force team weapon system support manager for Defense Supply Center in Richmond, Virginia.

Palm said the Brashear family will have memorabilia of Carl Brashear at the ceremony, some of which will remain at the veterans center for viewing.

Palm said they also will have the Brashear Challenge Coin Initiative. The intention is to have a supply of coins on hand so when veterans are admitted to the facility, each will receive a coin.

Challenge coins today are a tangible source of pride for America's warriors at every level in the chain of command, Palm said.

"They are a way to acknowledge excellent service and they have become a significant component of military life," he said.

Palm will be in Har­din County on Oct. 10 and 11 to publicize the veterans center's renaming and dedication. He plans to meet with local organiza­tions such as the Hardin County Chamber of Commerce and the Sunset Rotary Club.

Palm, along with his title with the Brashear Foundation, is president of Tony Palm & Asso­ciates LLC. His personal mission is to "leave no warfighter behind, regardless of the battlefield." He is a retired Navy chief petty officer/deep sea diver and recruiter.
The Carl M. Brashear Foundation 2016 Navy Diver of the Year
July 12, 2017 | By Mass Communication Specialist 2nd Class Joshua E. Walters, Defense Media Activity

The military ranks are lined with men and women who go above and beyond what is required of them to get the job done. Some specialized jobs, such as Navy diver, require Sailors to push themselves further and harder to overcome obstacles in their lives, personal or professional.

"A Navy diver is someone who has proven to themselves to get through any situation, and when the going gets tough, isn't going to turn their back and quit," said Navy Diver 1st Class Kenneth Dinette, the 2016 Navy Diver of the Year. "Really, what Navy diving is all about is just embracing whatever situation is out there, taking it on head-on and completing it right."

The Navy Diver of the Year award was established in 2014 to recognize the diver who best represents the singular commitment to excellence that is the hallmark of the Navy diving community. He or she must also embody the kind of courage and unwavering determination as exemplified by retired Boatswain's Mate Master Chief Carl Brashear, the first African-American master diver.

The Carl M. Brashear Foundation presents the award annually to candidates who have overcome significant personal, physical or emotional challenges to earn and keep the coveted Navy dive pin. Those can include candidates who lose someone close to them, face physical or physiological hurdles or those who meet academic challenges that could prevent them from qualifying for dive school.

Dinette, a native of Gresham, Oregon, enlisted in the Navy in April 2004. He had been having a hard time at home and wanted to change his life for the better. While watching "Men of Honor," he was inspired by Brashear's story and how he overcame the hardships and racism he experienced. Dinette decided to follow in his footsteps and become a Navy diver.

"I think it has been a life-long struggle for ND1," said Senior Chief Navy Diver Charles Foster. "He has never had it easy. He had to work hard for everything he has ever gotten and I think this is no different."

While celebrating Easter in the Fresno, California, area with his wife and kids, Dinette learned his mom, who had lived with their family for several years and cared for the children, was in the hospital. He and his family packed up and started driving down to San Diego where his mom was located. Barely an hour away from the hospital, Dinette received devastating news.

"April 2, 2016, I got very terrible phone call," said Dinette. "My chief called me and let me know my mom had passed away. I had that feeling like my throat was in a vice. I could barely breathe. It's a day I will never forget in my life.

"Once my mom passed away, everything changed," he continued. "My wife had to quit her career and had to be a stay-at-home mom, and I'm trying to continue on with my Navy career. It was hard balancing work and home life, and trying to process everything, trying to grieve."

When everything started to get back to normal and the family began settling into their new roles and routines, the Dinettes decided to spend the day hiking in Cedar Creek Falls, California. But as they were enjoying their day outside, their outing went south. Dinette's wife, Sylvia, slipped, fell and broke her tibia and fibula in half.

The years of dive training instilled into Dinette kicked in and he fixed her leg enough to carry her. With his boys single file in front of him, he slowly carried her up the hill. Luckily, they ran into some hikers who were able to get into cell phone range and call for help. Ultimately, Dinette carried his wife a mile and a half until a rescue helicopter could reach them.

"I handled it like any dive drill: This is the situation that's presented, this is what I am seeing, this is what I am hearing," said Dinette. "I got her to a clearing, a little meadow area and then we heard the helicopter fly around, and were able to life flight her out of there."

"I was in shock and didn't know what to do. It was scary," said Sylvia. "It was nerve wrecking, so he kept me calm by staying calm and knowing what to do."

Dinette had to pick up all the responsibilities in the house because his wife was unable to walk for a couple of months. He had to once again balance his work and personal life. On top of preparing to go and participate in the annual Rim of the Pacific exercise (RIMPAC), he was cooking, cleaning and taking care of his wife and kids.

"It took her about two months to start walking again and start actually being able to do the normal things she does a daily basis," said Dinette. "It was very difficult to overcome all of that at once. I found myself at some points just like, 'This is ridiculous. How am I going to do this?' You take it one day at a time and control what you can control. I can either sink and go down in flames, or I can just say, 'You know what? Run the next play until I start winning again.'"

Somehow, he still showed up early for work and took an hour to study each morning. This unwavering commitment and desire to be the best diver he could be while dealing with his personal hardships didn't go unnoticed by Dinette's superiors.

"The motivation, the never-give-up type of spirit that Carl Brashear had is clearly evident in ND1," said Foster.

Many Sailors in the diving community look to Brashear for inspiration and the courage to get back up and keep moving forward. Brashear encountered and overcame many personal struggles throughout his diving career. He even lost a leg after a salvage operation went wrong, and fought to not only stay in the Navy, but become a master diver. Through sheer willpower and stubbornness, he achieved this milestone in 1970. Dinette used this motivation to push through his toughest of days.

"Master Diver Carl Brashear ... a whole other era. If he could overcome the struggles he had, I have zero excuse whatsoever," said Dinette. "I had a broken heart, and still do. My mom is still the first thing I think of every single morning when I wake up. Just knowing I can never talk to her again is very hard, but if he [Brashear] could overcome the struggles he overcame, why can't I?"

It was this attitude that earned Dinette the 2016 Navy Diver of the Year award. He persevered and overcame not only the two hardest moments in his life, but also remained determined to become the best diver he could be.

"If anything, this award validates the year I had on a large scale, and I couldn't be more proud," said Dinette. "It's a true honor to have my name associated with Master Diver Carl Brashear. I was super excited and I actually gave a fist pump and yelled out 'Ya!' I was fired up about it."

This link leads to the All Hands website where a video, as well as the entire article, has been posted.
Son shares memories of 'Men of Honor' legacy
July 12, 2017 | By Staff Sgt. Teresa J. Cleveland | 633rd Air Base Wing Public Affairs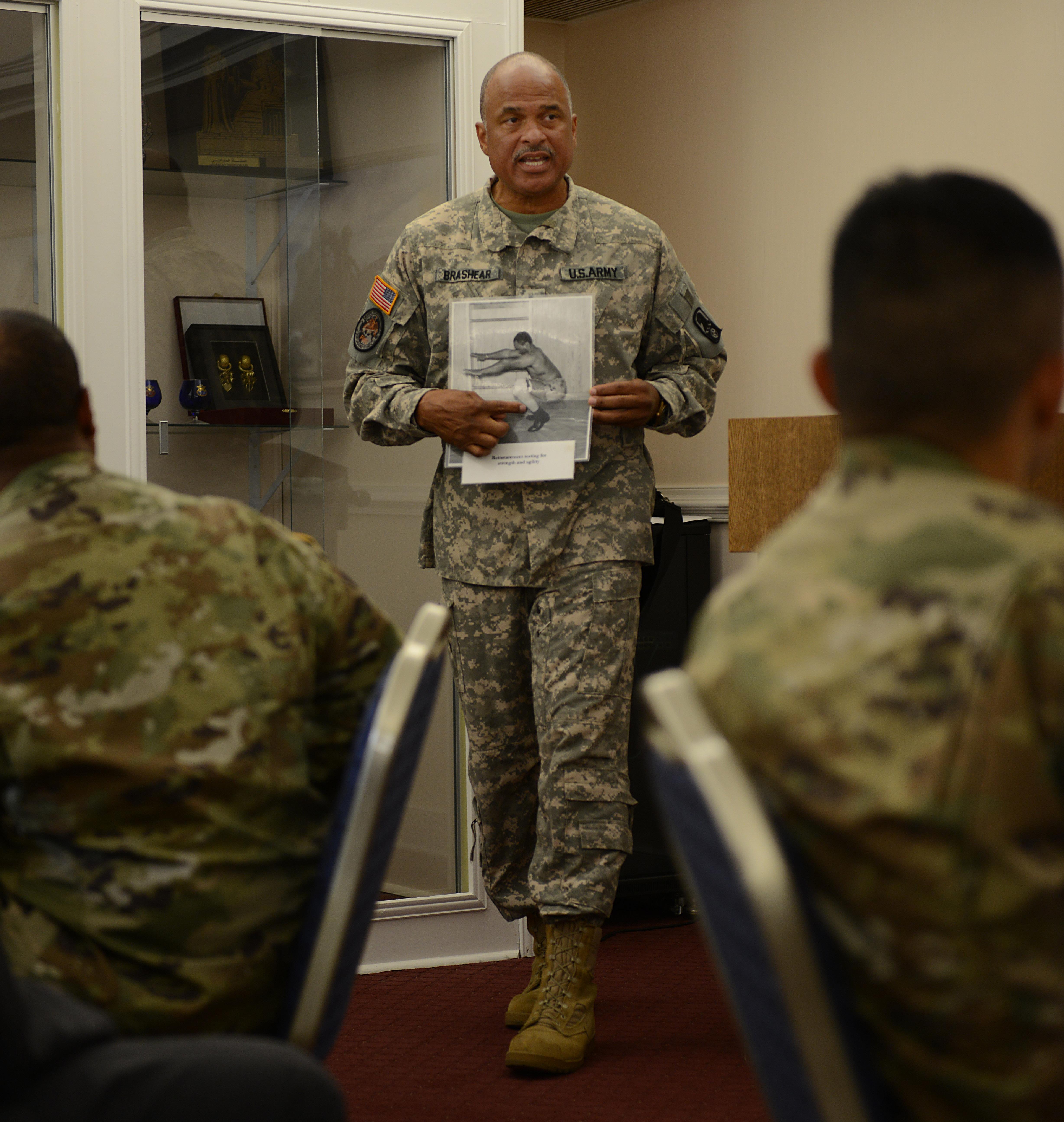 U.S. Army Reserve Chief Warrant Officer Phillip Brashear, 11th Aviation Command CH-47 Chinook helicopter pilot, shares stories and photos of his father, Carl Brashear, during the Fort Eustis Diamond Council's leadership luncheon at Joint Base Langley-Eustis, Va., June 28, 2017. Carl Brashear, who passed away in 2006, was the first African American graduate from the U.S. Diving and Salvage School in Bayonne, New Jersey and the first African American U.S. Navy diver. (U.S. Air Force photo/Staff Sgt. Teresa J. Cleveland) (Photo by Staff Sgt. Teresa J. Cleveland)
JOINT BASE LANGLEY-EUSTIS, Va. --

"What is meant for you, is for you, and no one can take that away from you." That's the message U.S. Army Reserve Chief Warrant Officer Phillip Brashear, 11th Aviation Command CH-47 Chinook helicopter pilot, portrayed to Soldiers as he shared stories and advice given to him by his father during the Fort Eustis Diamond Council's leadership luncheon, June 28, 2017, at Joint Base Langley-Eustis.

Phillip's father, Carl, who passed away in 2006, was the first African American graduate from the U.S. Diving and Salvage School in Bayonne, New Jersey and the first African American U.S. Navy diver. In 2000, the film 'Men of Honor' told Carl Brashear's story. In 2008, the USNS Carl Brashear, a dry cargo ship named in his honor, was launched by the Navy in San Diego, California.

During the luncheon, Phillip discussed the difficulties that both he and his father faced and overcame throughout their lifetimes. Phillip retired from the Army National Guard in 2007. After looking through his father's records and realizing he still had a lot to give, he joined the Army Reserve.

"My father had to overcome racism, poverty, illiteracy, physical disability, as well as drug and alcohol abuse, but he didn't let any of that stop him," said Phillip. "I sat around for eight months during my retirement and realized if my dad could overcome all of that and keep going, I could keep going too and continue to give back."

Brashear went on to share advice that his father gave to him about education, work ethic and having something to believe in.

"One thing my father taught me is education never stops, so don't think if you didn't do it back then, that you can't do it now," said Phillip. "He also taught me that you have to have a belief in something greater than yourself and our country is a great entity to believe in."

The quarterly leadership luncheons, hosted by the FEDC, are open to NCOs of all services, to learn and network across the branches of service and units in the local area.

"We're so grateful that Chief Brashear was able to come speak with us today because his family has an amazing story," said U.S. Army Master Sgt. Melissa White, FEDC president. "Hosting these events gives us the opportunity to network with other NCOs and provide mentorship and camaraderie regardless of their branch of service, unit, assigned base or career field."

Phillip also shared photos and stories about his father's life and the opportunities he has been given to share his father's legacy worldwide with leaders and young U.S. service members alike.

"I can't go anywhere without mentioning my dad because there is no way I would be able to do 36 years of military service without following in my father's footsteps," said Phillip. "He proved to the world that, regardless of your race and background, you can always make something of yourself if you believe in yourself and because of him, I have been able to spread that message to teenagers, young Soldiers and leaders worldwide."
Rock Island Arsenal honors Black History Month
February 14, 2017 | By Yessenia Chavez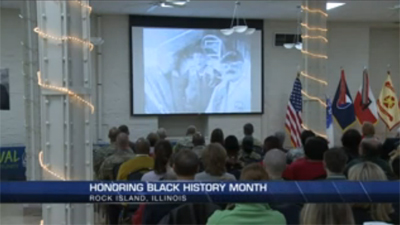 It's a story about motivation and perseverance. This is what Chief Warrant Officer 4 Phillip Brashear said to many who gathered at the Rock Island Arsenal in honor of National African American History Month Observance. His father, Carl Brashear, was the first African American Master Diver for the U.S Navy. Brashear's father battled through many obstacles during his time in the Navy but his perseverance to overcome them came on top. "The five things my father overcame was racism, poverty, illiteracy, physical disability, and drug and alcoholism. He was able to achieve. Those are five that are still affecting every country in the world today, and for a person to overcome those obstacles and achieve greatness, I think its motivational," said Chief Brashear.

During his time in the Navy, Brashear's father lost his leg during a bomb recovery. A pipe used to lift a bomb out of the water struck his left leg just below the knee. He was taken to a naval hospital and to avoid infection his leg was amputated. For his help in recovering the bomb his father received the highest Navy award for non-combat heroism...the Navy and Marine Corps Medal. "I want to keep his legacy alive and for [people] to know that this was a real man that actually lived and endured what he did," says Brashear. But even after his leg was amputated, his time in the Navy didn't come to an end. After an extensive recovery and endless determination in 1968 he became the first amputee diver to be re-certified into the U.S Navy. "If life gives you lemons make lemonade always perservere to achieve, thats what we're here for, thats what makes us the greatest country in the world," says Brashear.

In 2006 Carl Brashear passed away from respiratory and heart failure. Carl Brashear's life struggles and triumphs inspired the movie Men of Honor with Cuba Gooding Jr. playing the role of Brashear. Brashear says he will continue to speak his fathers message and continue to share his legacy. "There's nothing you can't achieve," says Brashear. A short video is included with the article and can be viewed on the WQAD 8 website.
Men of Honor – Carl Brashear (US Navy) and Phillip Brashear (USN, US Army)
February 8, 2017 | Article and photos by Gary Lehman - Dive News Network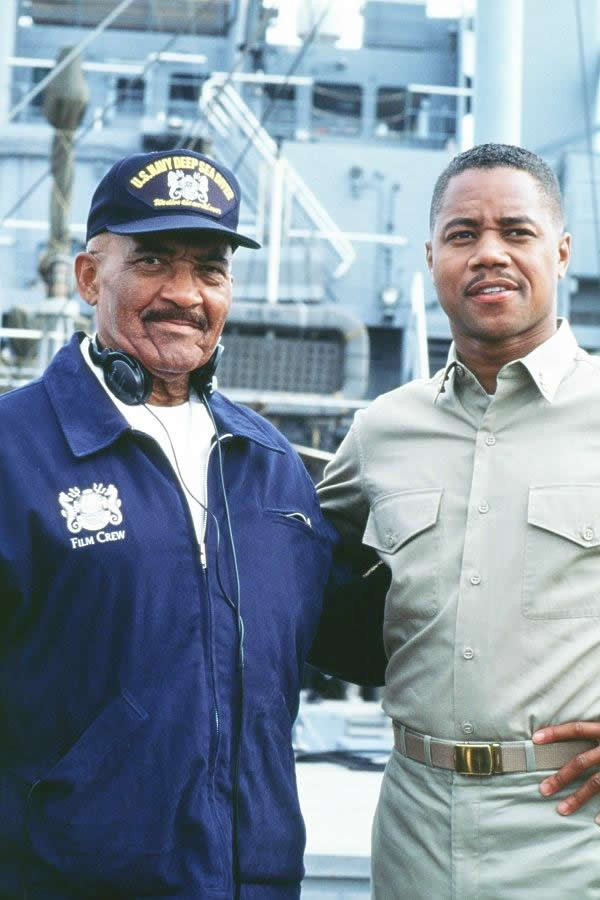 Man of Honor: Carl Brashear Dive News Network (DNN) caught up to Carl Brashear's son Phillip in Richmond, Virginia to talk about the Carl Brashear Foundation and about his father's US Navy career, his life and times and achievements. Some of our readers have seen and will remember the fine film Men Of Honor (2000) starring Cuba Gooding as Seaman (ultimately Master Chief Petty Officer and Master Diver) Carl Brashear, with Robert De Niro as his antagonist-turned champion Master Chief Bill Sunday, and actress Aunjanue Ellis as Carl's wife Junetta Brashear. The film did an exemplary job portraying the inspiring life of Master Diver Brashear.

And what an exalted life -- shimmering with achieving full human potential and the triumph of the human spirit! It will be a singular privilege in this article to recount Carl's life and journey. We can all draw inspiration from Carl Brashear, his intrepid determination and ultimate success in the face of multiple, overwhelming odds. His life offers a lighted pathway for us to pursue our personal commitment to achieve maximum potential in our own lives. Haze Gray and UNDERWAY!

Carl's historic life achievement was to become the US Navy's first African-American Master Diver, first to earn the rank of Master Chief Petty Officer -- the highest enlisted sailor position in the United States Navy. Only one percent of all enlisted sailors ever reach this pinnacle of US Navy ratings.

From Rural Kentucky to the US Navy Carl was born a sharecropper's son in rural Kentucky in 1931 at the height of the Depression, and joined the US Navy in 1948 at age 17 at the insistence of his parents. Directing their son to leave the subsistence farm where he worked the land so arduously with his brothers and family was a huge sacrifice for his parents, but their desire for Carl to have a better life impelled them to send him off to make the best possible life for himself.

President Harry Truman desegregated the US Armed Services in 1948, and while this was a major advance for racial equality providing opportunities for people of color, this legislation did little to suppress – and actually inflamed - the pervasive racism which lived in the hearts of much of the leadership and enlisted ranks of the US Navy. The film Men of Honor has many searing, painful scenes depicting the racism encountered by sailor Brashear. Phillip advised during our interview that the racism portrayed in the film was a "once over lightly" for the racism that Carl experienced; it was much worse than shown in the film.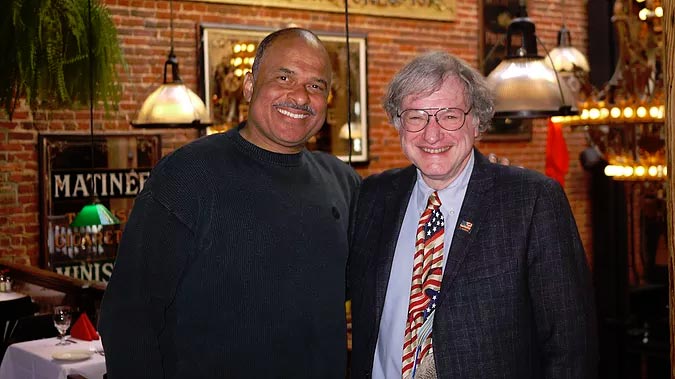 Carl Brashear's Early Life in the US Navy

Carl loved swimming in local ponds and lakes as a youngster growing up in rural Kentucky, and he proved to be a strong, exceptionally fast swimmer. In 1950 while assigned to US Navy ship ARS-40 USS Hoist, Carl witnessed the rescue of a downed pilot by a Navy diver. At that point a dream was born: Carl would become a US Navy diver. Carl's exalted reality in the Navy however, was grilling hamburgers for his shipmates aboard USS Hoist - a far cry from his dreams of glory in the US Navy. Working in the galley merely earned him the humiliating title of "cookie" (a mocking appellation which infuriated him and which he had to endure from his officer superiors for years). But racist name calling was the least of his concerns, compared to the abusive racism-inspired 'team building' and 'disciplinary actions' meted out to him. Worse, he received actual death threats from his shipmates who threatened to drown him; threats to that effect were posted on his bunk bed after he finally earned the opportunity to train to become a US Navy salvage diver.

A Day in the Life of a US Navy Diver… Dive News Network (DNN) readership includes divers, and as such we have good understanding about the complexities of deep/technical/wreck dives. We understand and internalize decompression concepts and tables; understand and manage breathing gas mixtures; master all the complicated equipment both in usage and maintenance; divers must have autonomic understanding of dive procedures; absolutely must avoid entanglement or entrapment in wreckage or other underwater structures as a matter of life and death; and must be perpetually mindful of the critical nature of timing in everything we do while diving. In short, being a technical/wreck confined-space diver is not for the faint of heart - considering the dual requirements of multiple task management and exceptional situational awareness. These can spell the difference between a successful dive mission or... a lonely, cold, panic-stricken death. Consider that being a US Navy diver is orders of magnitude more dangerous and complex than the dives we 'recreational' divers encounter. US Navy divers are assigned a variety of missions including harbor channel clearing and demolitions; experience repeated exposure saturation diving; perform underwater repair including welding and construction; engage in rescue operations including submarine crew rescue (and recovery); encounter the worst-imaginable hazardous and toxic materials and radioactive materials; Navy divers must recover live ammunition and heavy weapons ordnance from accidents and ships sinking; must provide discretionary (covert) operations support (sometimes in combat conditions). US Navy divers are considered to the premier underwater environment subject matter experts. US Navy divers are not missioned to photograph underwater landscapes, seahorses or marveling at manta ray 'fly-bys'-- they are there to successfully execute complex and inherently dangerous missions. Murphy is a constant companion to Navy (and all) divers, and the complicated and outright hazardous tasks performed combine with Murphy to create an exceptionally challenging mission set.

Carl Brashear: "It's not a sin to get knocked down, it's a sin to stay down…" Brashear was finally accepted for US Navy diver training after requesting the assignment for several years, but the rigorous training required to conduct the Navy diver mission represent a likely insurmountable obstacle for a diver with limited academic skills. K-12 schooling for an African-American sharecropper's child in rural Kentucky in post-depression America was vastly substandard. Imagine the challenge of studying the details of Boyle's Law, memorizing US Navy decompression tables, and mentally calculating diving decompression obligations – all subjects about as alien to Carl's Kentucky childhood as life on Mars! The complexity of that level of technical material is daunting for everyone, and much more so for an individual not accustomed to cut-throat competitive exams. When Brashear showed up to the US Navy Diving School in picturesque Bayonne, New Jersey, his academic challenges were only one of multiple strikes against him, which taken together predicted a high likelihood of a rapid dismantling of his quest to become a Navy diver.

At this point let's consider the challenges arrayed against Carl Brashear: he was from a poor family, who could offer no political, social influence or economic privilege which might be leveraged in support of Brashear's experience in the US Navy. He did not have a strong elementary or high school education, which placed him at a disadvantage relative to all his shipmates and the Navy officers to whom he reported and who assessed his performance. And on top of these obstacles, we layer on the eliminationist shroud of racism in the US Navy at that point in US history.

Carl Brashear – through his personal commitment to professional and technical excellence, faith in his abilities, and steadfast courage and level-headedness under personal trial and dangerously threatening underwater situations – was not to be denied his ascent to his goal of Master Diver! Thus, Carl's defining quote: "It's not a sin to get knocked down, it's a sin to stay down…"

Brashear's challenges didn't end with poverty, scholastic challenges, and racism. These Carl overcame, and following his graduation from US Navy Diving and Salvage School in 1954 after six years in the Navy as the first African-American US Navy diver, he earned the respect and trust of his shipmates and fellow divers for his successes in his diving missions. These included recovering live ammunition from murky North Atlantic waters and recovering multiple bodies of lost Blue Angel airmen. Thus - against all odds - Carl had come up to flank speed in his Navy diving career. In 1966 however, Carl's circumstances were about to radically change for the worse…

A Double-Tragedy Strikes… or, 'when the going gets tough, the tough get going…' The United States and the Soviet Union were at the height of the Cold War in 1966, and each country amassed massive nuclear strike capabilities delivered by bombers, submarine-launched or land-based missiles. Constant training by the crews was required to hone the skills to successfully execute a nuclear response; these exercises included air-to-air refueling of B52 jet bombers by aerial tanker aircraft. This is a dangerous venture, and mistakes can lead to tragedy. Thus, it was on January 17, 1966: a B52 bomber had a mid-air collision with a KC135 aerial tanker while refueling over the Mediterranean Sea over the coast of Spain. The KC135 blew apart, killing the four crew members and the B52 broke apart in mid-air. Three of the four hydrogen bombs fell onto farmland near the Spanish town of Palomares (causing radioactive contamination, but no explosion) and the fourth hydrogen bomb fell somewhere into the Mediterranean. After two and a half months of intensive US Navy searching, the bomb was located in 2,500' of water by deep submersible Alvin. Brashear was awarded the Navy's highest non-combat award – the Navy and Marine Corps Medal – for his courage and performance excellence in the Navy's effort to find the missing bomb. However, tragedy was to strike again. Brashear was managing the recovery crew operations topside on the deck of the USS Hoist while the recovered bomb was being retrieved, when a tow line broke. Brashear saw the accident about to happen and pushed a crewman out of harm's way just in the nick of time, but took the full brunt of a flying pipe which hit his left leg, shattering it in multiple places. He almost died from loss of blood on the deck. He survived, but after months of medical treatment, his left foot and leg became necrotic from loss of blood flow, and gangrene set in. The leg had to be amputated. Navy brass directed that this effectively ended Brashear's diving career - and set the stage for a medical discharge.

Carl Brashear was to have none of that. He wanted to continue to dive. He had his sights set on the becoming the Navy's first African-American Master Diver, and on earning the highest enlisted rank in the US Navy – Master Chief Petty Officer. In April 1968, after over two years of recovery, intensive physical training and rehabilitation, Brashear became the first amputee to be certified (actually Brashear's second certification) as a US Navy diver! In 1970 he became the Navy's first African-American Master Diver and one year later, achieved the highest rank of MCPO (E9). Thus, Carl Brashear overcame yet another (literally) crippling challenge, physical disability of an amputated leg. During the final part of his career, Carl supervised a team of divers aboard USS Recovery ARS-43. He was revered as a leader, and his team knew that Carl understood their job, had their back, would advocate for them -- and keep them safe. These divers were his surrogate children while he was aboard the ship.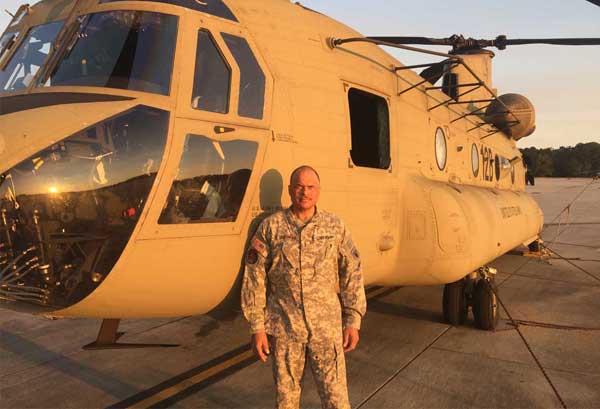 Phillip Brashear and the legacy of Carl Brashear During DNN's meeting with Carl Brashear's son Phillip, the discussion also revealed some aspects of Carl's life which are not as well-known as his legendary Navy career. Some of these were obliquely hinted at in the film.

Despite the triumph of the human spirit which Carl marshalled to overcome poverty, illiteracy, racism and physical disability – Phillip reminds us that his father was not a 'mythical' figure… but was all-too human, with human weaknesses. As his father's career started to wind down in the mid to late 1970's, Carl himself started to reflect back on roads taken, and those not taken. He realized belatedly and with some regret that he had sacrificed his family relationships, subordinating them to his Navy diving career.

There is a searing scene in the film Men of Honor in which Carl's wife Junetta confronts Carl in his hospital room with this insight, and sadly walks away. This may have been part of a process and turning point in their marriage, for they divorced some years later; Carl was married three times. And then there was the alcoholism. These are painful truths for us all to acknowledge about legendary Carl Brashear, but important in order to establish "Carl Brashear" as a human being. After serving more than thirty years in the US Navy, Carl passed away in 2006 at age 75. Before he passed, he successfully completed his final mission – returning to his family.

Phillip's insight is this: the true testament and powerful legacy of the 'real' Carl Brashear – is that he was not a mythical god, but rather a human being who - unlike any other American hero in American history, overcame five major adversities to achieve his dreams, namely: poverty, illiteracy, pervasive racism, physical disability and alcoholism. In this light, Carl would proclaim "It's not a sin to get knocked down, it's a sin to stay down…".

The Carl Brashear Foundation Reflecting back on Carl Brashear, a question surfaces: what message would Carl have for young people today? Phillip believes that Carl's answer to that question would have changed over the course of his father's life, mirroring his father's personal growth over the years. Initially, the answer would have been "Never Give Up, and Never let anyone steal your dreams".

Carl never wavered from that personal commitment to excellence, and directing those close to him to expend the energy and effort necessary to achieving their individual goals. However, Carl's answer would become enriched with his additional life insights: that commitment to education, loving your family, extending a helping hand to those in your community who are in need, and calling out social injustice and abusive behavior in whatever form – are building blocks for a fulfilling life in the spirit of 'Love Thy Neighbor'. Phillip also believes that his father would enjoin young people to look up from their smartphones now and then (and actually speak to each other, instead of texting!).

Phillip Brashear is the President of the Foundation ( www.carlbrashear.org ), and oversees extensive community outreach in various initiatives in pursuit of these objectives. Outreach includes presentations to area schools to inspire high schoolers to learn what Carl accomplished under adversity - and to realize that they too, can and should strive to achieve their personal best; the Foundation also makes presentations to numerous armed services teams all over the country; provides and supports human and family services to veterans and their families; delivers the message of empowerment to African-Americans through various advocacy programs and organizations. Collectively, the Foundation energetically brings the message of Carl Brashear's success against all odds, revealing the human capacity to achieve personal best to people all across our country.

Carl and Phillip Brashear: Lightning Strikes Twice! Phillip is Carl Brashear's son, but they also share a life experience! After graduating high school Phillip joined the Navy like his father before him, and worked as a crewman aboard Navy helicopters with a minesweeping and anti-submarine warfare mission. He decided he wanted to go to flight school, but that was not an option for him in the Navy because he did not have a college degree. After mustering out of the Navy, he joined the Virginia Army National Guard (which did not have a college degree requirement for piloting helicopters) and Phillip qualified as pilot. He flew Hueys, Blackhawks and eventually was cross-trained to fly multi-rotor Chinooks, serving in Bolivia on peacekeeping assignments, helping to build community centers, schools, hospitals and infrastructure. He also served in Bosnia as a member of the United Nations Multidimensional Integrated Stabilization Mission, conducting infrastructure development, logistical and discretionary missions; and while in Iraq, performed a variety of missions including troop transport, equipment relocation, VIP transport, air assault, and discretionary missions. It should be noted that in many cases Navy divers are responsible primarily for their own well-being or small numbers of other divers on that particular mission; Phillip's "Blackhawk driver" responsibilities frequently had a different, but exceedingly high stress and danger level. For example, Phillip had to stay cool and dodge anti-aircraft fire and surface to air missiles being shot at his Blackhawk, and execute low-level penetrations into hostile areas (sometimes at night in snow, sleet or dust storms) - and hoping that coalition forces would not mistake him for an incoming enemy. Sudden panic underwater will end up in a bad day for an individual… but is a horrible prospect if flying a Blackhawk with a platoon of soldiers in the back… DNN says 'Hats Off' to Phillip for his valorous service!

In June 2014 Phillip took the required annual instrument flying checkout certification -- and scored so highly that he celebrated by engaging in a rigorous 4-mile run the following morning! After his run, he had his annual flight physical assessment. To his surprise, he was diagnosed with a cardiac condition known as Atrial Fibrillation. Unfortunately for Phillip, A-Fib is a flight career 'show-stopper'. Army brass said Phillip's flight career was honorably concluded. But Phillip is Carl's son, and 'no more flying' was just not an option. Phillip's Army Flight Surgeon referred him to a Navy cardiologist, who during the examination, recognized Phillip's last name, and realized with incredulity that he had treated Phillip's father Carl some years earlier. The stage was therefore set for Phillip to follow in his father's footsteps to plan with his doctor how to somehow - find a way - to keep flying. And they did. The 'Frankenstein' procedure was used to shock Phillip's cardiac rhythm back to normal (It's ALIVE!), and Phillip still is flying those tricked-out Chinooks. With their faith and steadfast commitment to personal excellence and fulfilling their dreams, these Brashears just keep getting back up; resiliency in adversity is in the DNA of this family!

And On a Personal Note… Phillip remembers with great excitement the 2011 conference (attended by Beneath The Sea founder Zig Zigahn and Women Divers Hall of Fame members US Navy Captain Bobbie Scholley and Vreni Roduner) at the Mariners' Museum at Newport News ( www.marinersmuseum.org ), documenting the recovery of the turret of the Civil War era (Union) ironclad warship USS Monitor off the bottom at Hampton Roads, Virginia. (The turret is now being preserved in the Museum). Being on the Department of Defense-funded NOAA teams in 2001 and 2002 directing the salvage the USS Monitor's turret under heavyily- heaving seas was Bobbie Scholley's most famous mission in her storied US Navy career, and involved twenty dives to 240ft on surface-supplied mixed gases to manage her team during the salvage (read more at: sanctuaries.noaa.gov/news/features/barbara_scholley.html ).

And of course, DNN also asked Phillip if he or any members of his family are divers! Phillip demurred on that, but did indicate that he enjoys snorkeling. And therein, friends, is our opportunity with Phillip. He admits to enjoying warm, blue water with pretty, colorful fish – a nice break from instrument flying through anti-aircraft fire at night in driving sleet with a load of leathernecks in the passenger compartment -- so let's collectively encourage Phillip that if ever he decides while on vacation to trade his flight suit for a wetsuit, and his flight goggles for a face mask and fins, we will be there for him - and gladly help him discover our and his father's world -- up close and personal! Dive News Network and all our readership thank Phillip for his service to our nation, and for his success in bringing his father's inspiring message to new generations. Our nation pays respects to Carl Brashear – a true American and human hero -- for his determined perseverance through multiple adversities to find success and achieve his personal best and dreams.

Read the entire article on the Dive News Network website.