Cosby High School Visit
April 26, 2016

On April 29, 2016, Phillip Brashear shared the life and values of the late Master Chief, Master Diver (retired) Carl Brashear to a group of Cosby High School students in Midlothian, Va. Phillip showed videos of the late Carl Brashear in a local news interview, a dedication of the Newport News Fireboat in 2005, and the christening ceremony of the USNS Carl Brashear in 2008. Phillip then held a discussion of the life-lessons he learned from his parents and the impact it had on his life.

The students involved belong to English teachers Heather Leckie and Sarah Herman as part of their continued education on bigotry and the power of prejudice in American society. Heather Leckie initiated the learning experience by having the kids read Harper Lee's To Kill a Mockingbird, and hold discussions on the impact of what they read in the novel.

The group was inspired as they witness the intensity to achieve, despite all of the obstacles placed in Carl Brashear's way. Phillip shared with them that Carl overcame illiteracy, poverty, racism, physical disability, and an eventual alcohol addiction before finally reaching the goals he set for himself in life. One of the school's administrators, Katina Schoolfield was also in attendance.
AAAA ARTICLE – "History Repeats Itself"
March 3, 2016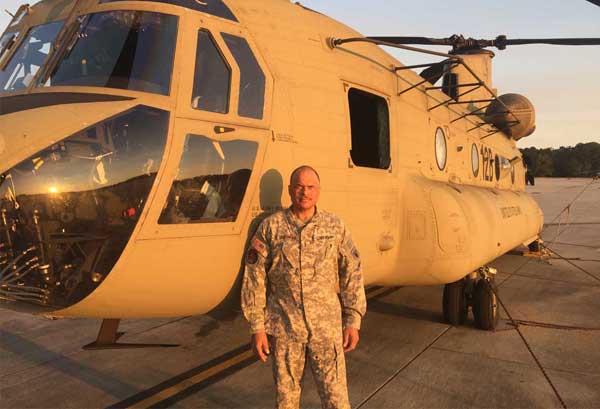 CW4 Phillip Brashear carries a blessing and a burden, but that's what comes with being Carl's son. The blessing is having a father that everyone loves and respects. The burden is having your career in the shadows.

Phillip's father was Master Chief Petty Officer (E-9) and Master US Navy Diver, Carl Brashear (1931-2006), whose story as the US Navy's first African-American Master Diver was portrayed in the movie Men of Honor. His character played by Cuba Gooding Jr.

In March 1966 Carl was severely injured and suffered an amputation of his leg during a deck accident on a naval vessel. It took a team of dedicated medical professionals more than two years to get him back up on dive status so that he could achieve his goal to be the first African- American Master Diver. He said, "It's not a sin to get knocked down; it's a sin to stay down….I ain't going to let nobody steal my dream."

CW4 Phillip Brashear began his service when he joined the US Navy Reserve in 1981 and performed duties as a jet mechanic and flight crew member. He loved flying. He wanted to be a pilot but didn't have a degree. In 1989 Phillip's service with the Navy ended and service in the Army began when he joined the Virginia Army National Guard. A year later he went to flight school.

Upon graduation Phillip was assigned as an UH-1 Huey pilot to A Co 2nd Battalion, 224 Aviation Regiment. Along the way he got a UH-60A/L Blackhawk transition and the Maintenance Test Pilot Course. He was assigned to B Co for deployment to Iraq in 2005 where the unit executed air assault and VIP missions.

After a wonderful career Phillip retired from the National Guard while working as a Weapon System Support Manager for Defense Supply Center in Richmond, VA. Feeling that he still had service to give he joined the US Army Reserves and was assigned to 5-159th Aviation Regiment at Ft Eustis, VA and got transitioned into the CH-47D Chinook. He was assigned as the Rear Detachment Commander because the unit was in the final stages to deploy to Iraq when he arrived.

On June 26, 2014, CW4 Brashear was given a routine instrument check ride as part of his annual qualifications at Ft Eustis, Va. He said that he did so well on the flight that he treated himself to a 4 mile run the morning after. Later that morning he had his annual flight physical appointment.

Like most major life events this one was a surprise. Phillip was diagnosed with Atrial Fibrillation or A-Fib. This not uncommon heart arrhythmia immediately produced a down slip. He was prescribed blood-thinning medicine and waited for his next appointment.

In July 2014, at Portsmouth Naval Medical Center in Portsmouth, Va., Phillip received what he called "the Frankenstein treatment" otherwise known as cardioversion. The naval cardiologist, CDR Michael Spooner MD recognized Phillip's name. The doctor said he had treated Phillip's father years ago when his father needed cardio care at the Navy facility- funny how things happen that way. The same military doctor that tended to Carl Brashear also treated his son.

CW4 Brashear got his upslip in October of 2015 and completed his F model CH-47 Chinook transition at Ft Rucker, AL. LTC (Dr.) Christopher James Army Flight Surgeon at Ft Eustis, VA "quarterbacked" Phillip's treatment all the way through by translating medical jargon into English, giving options, recommendations, and scheduling appointments. CW4 Brashear said, "Military medicine squared away both my father and me and kept my career going just like it did my father's [career]. Some people don't trust military medicine. Here are two cases where it came through to keep our careers going." History really does repeat itself! CW4 Phillip Brashear is a new member of AAAA's Colonial Virginia chapter.

Author's Note: Two items. First, this author strongly recommends going to Carlbrashear.org to read more about Phillip's father's career and the 501©(3) fund set up by the family. Second, CDR Spooner says cardioversion is not as bad as people think. It involves low voltage and conscious sedation.

CW5 (Ret) Dave Cooper AAAA Vice President for Membership
Celebrating African American History
February 24, 2016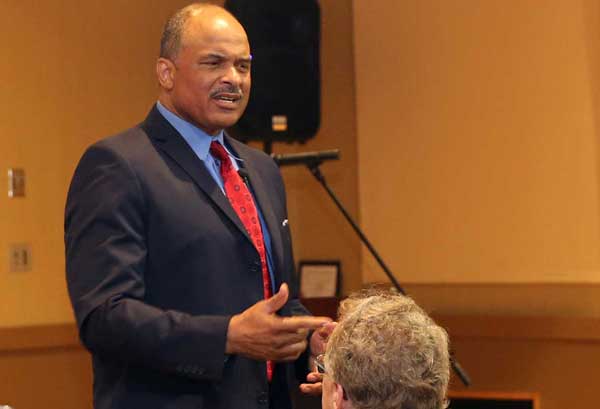 By Bill Mesta, Military Sealift Command Public Affairs NORFOLK (NNS) — Military Sealift Command's Special Emphasis Observance Committee hosted a Black History Month celebration on board Naval Station Norfolk, Feb. 24. "Today we will celebrate African American, Black History Month," said Clarence White of MSC Executive Office and the master of ceremonies for the event. "Black History Month, also known as National African American History Month, is an annual celebration of achievements by African Americans and a time for recognizing their accomplishments throughout the history of the United States." "When February approaches, there seems to be a collective shift in the atmosphere," said MSC's chaplain, Lt. Vito Crecca. "This observance is very germane to who we are as a people. When we pause to remember black history, we also pause to remember American history.

"When one travels around this country from one locale to another, one would be hard pressed to not encounter the experience of a black patriarch," said Crecca. "Their sacrifices, their passion, their hope, their victories are undeniably laced through the very soil of our country." The keynote speaker for MSC's Black History Month celebration was U.S. Army Chief Warrant Officer 4 Phillip M. Brashear, the son of Master Chief Navy Diver Carl Brashear. The late master diver was the first African American Navy diver and the first amputee to remain on active duty as a deep-sea diver in the United States Navy.

"My father passed away 10 years ago this July," according to Brashear. "He was a great American hero and now he is at legend status. I never want my dad to become a myth. I always want my dad to be remembered as a legend and American hero. He did not believe he was 'all that.' He was just doing his job. "My father was black in a time when being black in this country, and at a time in the Navy, was not a real popular thing," said Brashear. "At the age of 17 he joined the military with an 8th grade education." "My father grew up poor, he grew up on a share-croppers farm," added Brashear. "He also had a physical disability." Carl Brashear lost his leg during an attempted recovery of a hydrogen bomb when two military aircraft collided, losing the bomb in the ocean off the coast of Spain. During the recovery, Brashear was severely injured when a pipe broke loose. "I got all the Sailors out of the way, but I didn't get myself out of the way," Carl Brashear reported after the incident. The pipe flew across the deck and hit Carl Brashear below the knee. "The fifth challenge my father had to deal with was alcoholism towards the end of his Navy career," said Brashear. "Think about it, he dealt with racism, lack of education, economic challenge, physical disability, drug and alcohol abuse. Five issues which are still affecting our country today. "With all of these challenges, my father proved that anything is achievable," added Brashear. "We have no excuses for never making it in this world. Because you know what, if he can do it, anyone can do it. "You have no right to give up," said Brashear. "My father never gave up when things got hard. When things are hard and life gives you lemons, make lemonade that is what my father did."

After Brashear addressed the audience, MSC's Commander, Rear Adm. T.K. Shannon, presented Brashear with command challenge coins and remarked on the significance of the event. "Events such as this are incredibly important," said Shannon. "We take time out of our day to look back at the very impressive contributions of those who have gone before us. "It is our turn to 'put the shoulder to the wheel' and carry on the hard work of those who came before us," added Shannon. "Slavery was wrong. Segregation was wrong. Denying people the right to vote was wrong. Thank goodness for the courageous folks who took a stand to have those policies ended. "We have a problem though," continued Shannon. "For all of those who worked to correct these wrongs, there were those who saw the injustices and didn't do anything about it. They turned a blind eye." "Let's go forward, be proactive and take a stand," charged Shannon. "Anybody who sees an injustice, whether it is equal opportunity, sexual assault, sexual harassment, wherever we see wrong, and let's not turn a blind eye. Let's take a stand and do the right thing." The celebration included the singing of the national anthem by Delanya Hoskins and the reading of the 2016 Black History Month presidential proclamation by Terry Blair.

"The origins of Black History Month date back to 1926 and the establishment of Negro History Week," according to White. "The original celebration fell on the second week of February, between the birthdays of the famous orator and abolitionist Fredrick Douglas and President Abraham Lincoln. "In 1976 the celebration expanded to include the entire month of February," said White. "Since 1976, every U.S. president has officially designated the month of February as Black History Month."

"America's greatness is a testament to generations of courageous individuals who, in the face of uncomfortable truths, accepted that the work of perfecting our nation is unending and strived to expand the reach of freedom to all," according to President Barack Obama's 2016 Black History Month Proclamation. "During National African American History Month, we recognize these champions of justice and the sacrifices they made to bring us to this point, we honor the contributions of African Americans since our country's beginning, and we recommit to reaching for a day when no person is judged by anything but the content of their character."

For more news from Military Sealift Command, visit www.navy.mil/local/MSC/.