White House Communication Staff Visit
October 1, 2015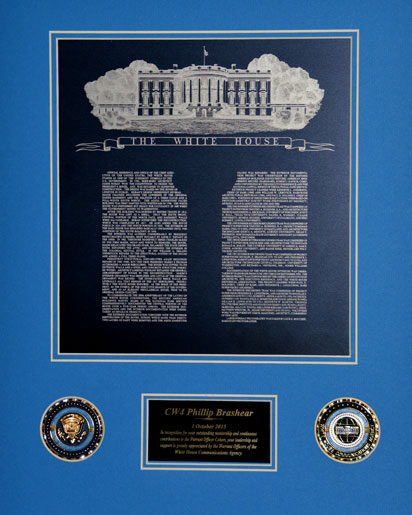 CW4 Phillip Brashear was invited to speak to the White House Communication Staff on October 1, 2015 in Washington D.C. A member of the staff is a friend of Brashear and wanted his fellow staff members to learn more about the late Master Chief and Master Diver Carl Brashear as an example of personal and professional development.

The crowd present was a mixture of military personnel, civil servants, and contractors who are responsible for all communications entering and leaving the White House as well as audio-visual, and internet support. As Phillip spoke about the trials, accomplishments, and personal interactions with his father, the talk became more of passing of "life lessons" to the group. He reminded the group of his father's great sense of humor and his respect for all people regardless of their status in life. Phillip demonstrated this fact by telling the crowd that his father would give the same handshake and warm smile to the man who picked up the garbage in his neighborhood as he would give the President of the United States. Phillip also shared with the crowd the caring his father had for his family by ensuring all of his personal affairs were in proper order prior to his passing in July 2006. The crowd in attendance also viewed video of the Carl Brashear Fireboat in Newport News, Virginia and the christening ceremony of the USNS Carl Brashear in Sep 2009. Phillip's wife Sandra and son Tyler also made the trip to Washington D.C. The leader of the White House Communication Staff presented Phillip with a commemorative White House plaque and coordinated a tour of the White House for the Brashear family on the following day.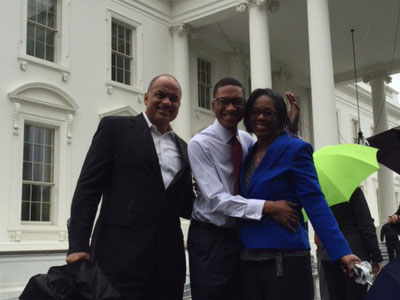 Sandra, Phil and Tyler at the White House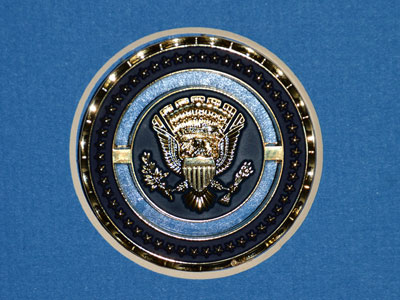 Obverse side of coin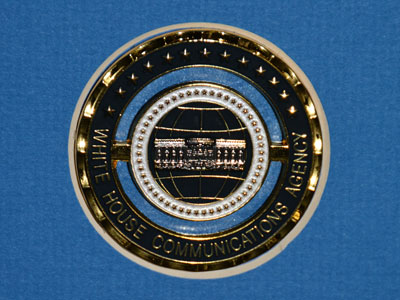 Reverse side of coin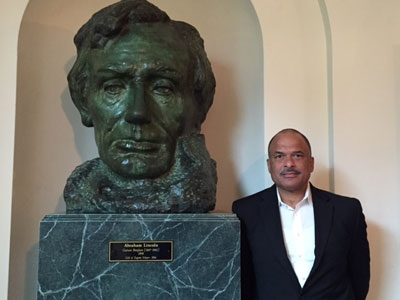 Phil with a bust of Lincoln.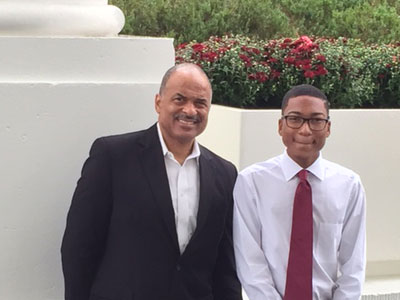 Phil and Tyler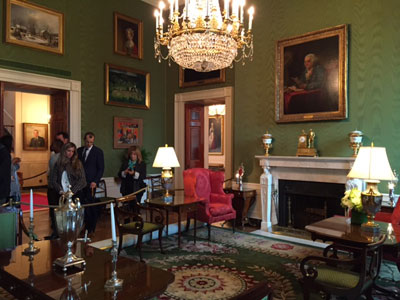 The Green Room.
Passing of Junetta Brashear
May 27, 2015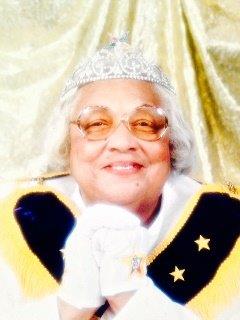 Junetta Brashear passed away peacefully in her residence at Harbor Tower Apartments in Portsmouth Virginia.

Junetta was the only child born to the late Walton and Cora Wilcoxson, in Magnolia Kentucky on June 10th 1933. "June", as she was affectionately called, was an attractive, spirited, compassionate, and thoughtful young lady who could light up any room with her piercing high pitched voice and bright dimpled smile. June was educated in the Hardin County School System and received her high school diploma. She promptly set her course toward becoming a licensed beautician where she would be able to parlay her love for beauty and people into a respectable career. Her life plan was abruptly put on hold as she unexpectedly caught the eye of a young strapping sailor, Carl Brashear.

They would soon marry and embark on a new life adventure as a military family. From this union four (4) children were born; Shazanta, Dawayne, Phillip, and Patrick. June was a devoted wife, and mother, who took great pride in the balancing act of raising a family, being gainfully employed, and being active in her community.

She was a long standing and valued employee at the Naval Exchange cafeteria located at the Norfolk Naval Shipyard in Portsmouth, Virginia, and a paper route supervisor for the Virginian Pilot newspaper. One of her cherished accomplishments upon her divorce was the purchasing of her own home on Avondale Road in Cavalier Manor where she could continue her passion for cultivating her beloved rose bushes as an independent woman.

After retiring in 1988 she became a constant fixture as a concession stand volunteer at the neighborhood little league ball park in support of her grandson Randy. Always looking for a way to serve in her community June completed the initiation requirements for the Order of the Eastern Star and was a distinguished long standing member. June was also a member of New Testament Baptist Church on Rapidan Street in Portsmouth, Virginia where she loved to sing in the choir.

Junetta Brashear was predeceased by her husband of 28 yrs. Carl Brashear and her first born child, Shazanta "Shane" Brashear. She leaves behind to celebrate her three remaining sons Dawayne, Phillip (Sandy), and Patrick.12 grandchildren and 12 great grandchildren, and a host of relatives and friends.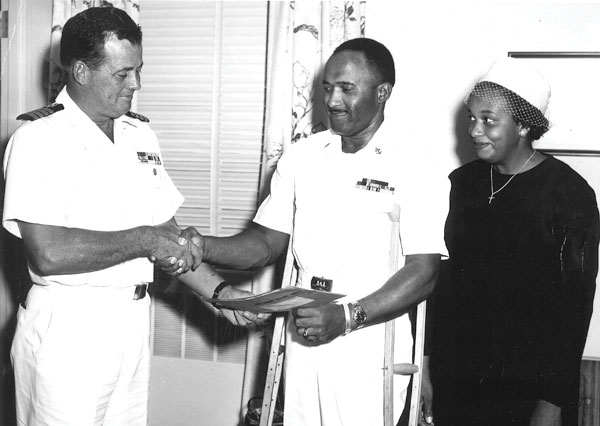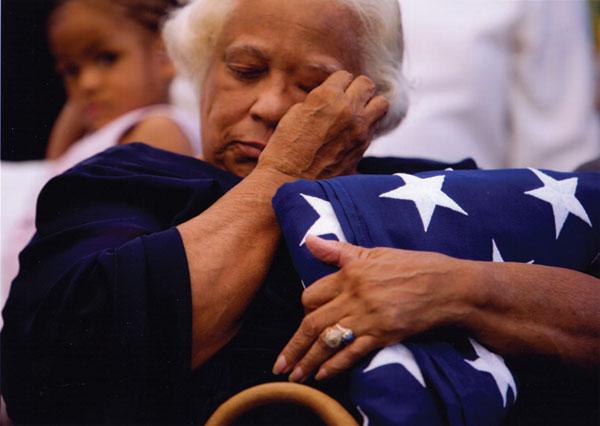 Brashear Foundation Presents First Ever 'Military Diver of the Year Award'
By Tony Palm - Public Relations/Development Officer for the Carl Brashear Foundation
From L to R: CWO Phillip Brashear, ND1 Spencer Puett, Tony Palm, USN Ret.
At the annual Military Divers Training Continuum in Panama City, FL, with over 200 active-duty Navy Divers in attendance, Phillip Brashear, President of the Carl Brashear Foundation, presented the first annual Military Diver of the Year Award to Navy Diver First Class (DSW/EXW) Spencer Puett.

Brashear, son of legendary Master Diver (MDV) Carl Brashear, the Navy Diver whose life was immortalized in the movie, Men of Honor, is an Army Reserve Chief Warrant Officer and a Weapons Program Manager at the Defense Logistics Agency in Richmond, VA.

Puett, a 2003 graduate of Central High School, Saint Joseph, MO is the son of Alice and Ron Puett, also of Saint Joseph, and grandson of Harold and Dorothy Dughes, of Dawn, MO. He enlisted in the US Navy 2005 as a Construction Mechanic (Seabee) and completed his initial diver training at the Navy Dive and Salvage Training Center (NDSTC), Panama City, FL in 2007.

Upon graduation, he reported to Explosive Ordinance Demolition (EOD) Mobile Unit Three, San Diego, where he supported Navy EOD operations while deployed to the Western Pacific on board the USS Ronald Reagan, CV-76.

In 2012 he reported back to NDSTC for advanced diver training, graduating as a 1/C Diver, and immediately afterward reported to Mobile Dive and Salvage Unit Two (MDSU 2), Little Creek, VA. While assigned to MDSU 2, Puett deployed to the FIFTH and SIXTH Fleet Areas of responsibility (Middle East & Africa) as part of Task Group, FIVE SIX Point ONE.

In the award citation, Brashear quoted Puett's nomination which was written by the MDSU 2 Executive Officer, LCDR Daniel Bailey, "ND1 Puett's contributions rivaled, and often surpassed those typical of far senior enlisted and commissioned leaders. His superb leadership of subordinate sailors during 14 highly successful diving, ships husbandry, and force protection operations was surpassed only by the team's impeccable safety record."

Brashear went on to say, "Petty Officer Puett, I am confident in stating that were my father still alive, he would be extremely proud to have chosen you for this award. Your exemplary behavior is in keeping with the highest ideals of Courage and Determination set by Master Chief/Master Diver Carl Brashear and are in keeping with the greatest traditions of the United States Military Diving Community and the United States Navy."

Brashear concluded the citation by presenting Puett with a custom-made paddle. "I'm blown away by this award, and believe it will help me to make Chief Petty Officer", Puett said. "The Brashear award is a big deal to the Diving Community and gives junior personal something to shoot for".

Puett's wife, Stephanie, also of Saint Joseph, along with his parents and stepmother Sharon Samuelson all traveled to Panama City to attend the ceremony.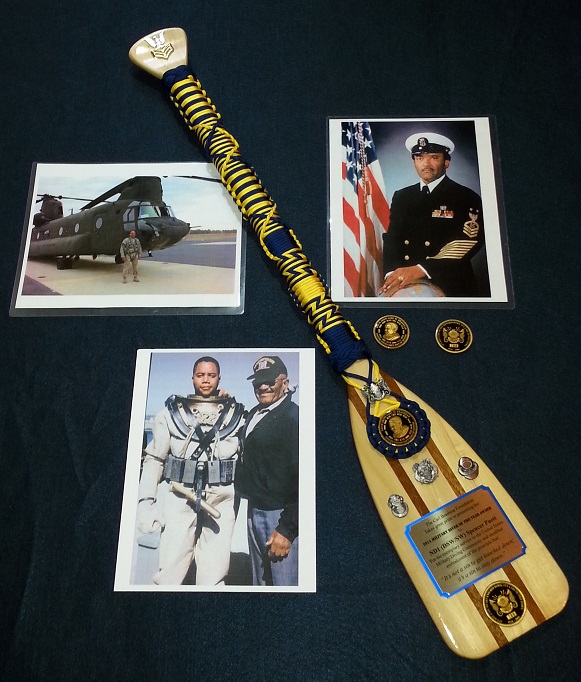 The custom made paddle presented to ND1 Puett
Fisher House Foundation is Donation Recipient
Thank you! Your generous donations allow us to help support other worthy organizations.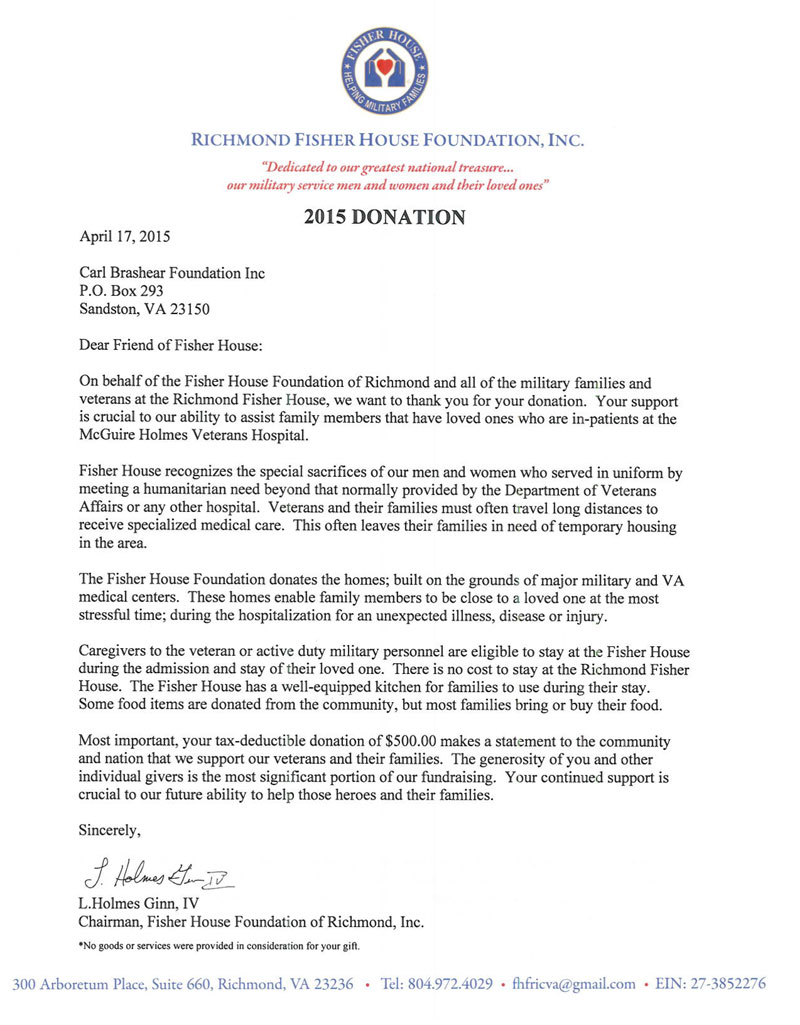 Son of Honor
By Sgt. 1st Class Phillip Eugene, 80th Training Command (TASS) Public Affairs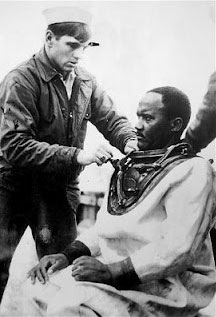 A U.S. Navy sailor fits Master Chief Petty Officer Carl Brashear with a diving suit prior to a training mission. Brashear overcame racism and became the first African-American to graduate from the U.S. Diving and Salvage School.
People don't have to like you, but if you're competent at your job then they have to respect you.

That's the message Chief Warrant Officer Phillip Brashear wanted the Reserve Soldiers and civilians of the 80th Training Command (TASS) headquarters to walk away with, after he spoke to them in Richmond, Va., Feb. 20, 2015, as part of the unit's Black History Month observance.

Brashear said, he strives to be the example set by his father Carl, who overcame racism and became the first African-American to graduate from the U.S. Diving and Salvage School, and the first African-American U.S. Navy master diver. He was also the first Navy diver to return to full active duty as an amputee after a shipboard accident in 1966 cost him his leg. He retired in 1979 at the top enlisted rank of master chief petty officer.

Cuba Gooding Jr., alongside Robert De Niro, portrayed the elder Brashear, who died in 2006 at age 75, in the movie "Men of Honor".

"That's what the movie portrays," Brashear said. "It shows the two characters, Robert De Niro and my father, not liking each other because of race, but if you take all that away, at the end, my father proved that he was competent at his job and you saw where Robert De Nero's character ended up respecting him for that."

Brashear, a CH-47 Chinook helicopter pilot, said he's surprised that there are so few African-Americans in his career field.

"The opportunities are there, it's nothing like what my dad went through," said Brashear, who's also a Reserve Soldier assigned to 5th Battalion, 159th Aviation Regiment, General Support Fort Eustis, Va.

"My dad accomplished a lot in his life, but he never flew a helicopter," Brashear jokingly told the audience during his presentation laced with humor coupled with his father's positive approach to life.

For example, in 2006 Brashear returned from the Iraq war because his father was gravely ill.

"I was by his bedside telling him about how I was tired of being in Iraq, tired of seeing my buddies dying," Brashear said. "My dad told me, 'so what do you have to complain about?'

The message behind that statement was, "no matter how bad you think you have it, there are some who have it worse than you do," said Brenda Dabney, the 80th TC's health readiness coordinator.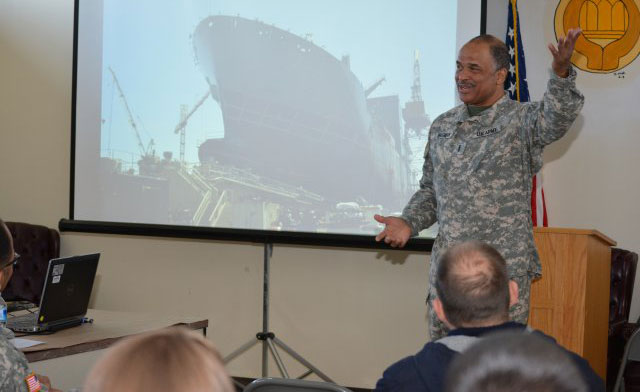 Chief Warrant Officer Phillip Brashear, 5th Battalion, 159th Aviation Regiment, General Support Fort Eustis, Va., talks to Soldiers and civilians of the 80th Training Command (TASS) headquarters in Richmond, Va., Feb. 20, 2015 in observance of Black History Month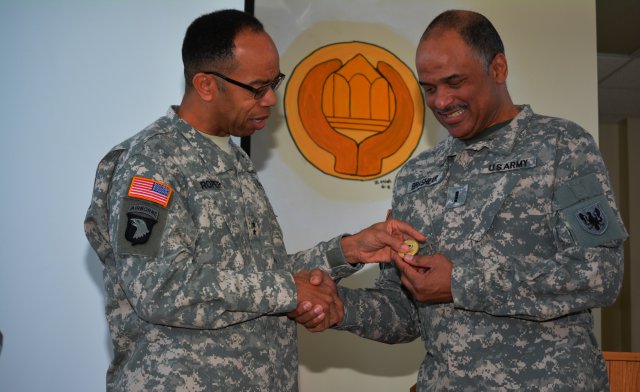 Maj. Gen. A.C. Roper, commander 80th Training Command (TASS) presents his commander's coin to Chief Warrant Officer Phillip Brashear, 5th Battalion, 159th Aviation Regiment, General Support Fort Eustis, Va., after Brashear delivered his presentation.
Brashear said, one of his father's most significant traits that the movie doesn't reveal was his sense of humor.

"He only stood 5 feet 9 inches and I'm 6 feet 4 inches. I became taller than my dad when I was fifteen years old," Brashear said. "I asked him, 'dad why am I so tall and you're so short?' He said son before you came along I was out at sea a lot, so you better ask your mother."

At the end of the presentation, Michael Bland, the 80th TC's chief executive officer, reminded the audience that Brashear once flew a mission in support of the command's Family Readiness office, but no one knew who he was.

"Well, in that case, I christen you an honorary member of the 80th Training Command," said Maj. Gen. A.C. Roper, commander 80th TC, before presenting Brashear with his commander's coin, a certificate of appreciation, and a book highlighting the 80th TC's efforts supporting the Global War on Terror. "You're living the legacy and blazing your own trail, and I know your dad was proud of you…not just in your everyday world as a Soldier, but as you spread those life lessons which are so important."

"Honor, dignity, sacrifice," Roper added. "All of that was wrapped in your dad and your family."
Why Carl Brashear Continues to Inspire
And how his example of courage and determination changed my life. By Tony Palm BMC (SW/DV) USN (Ret)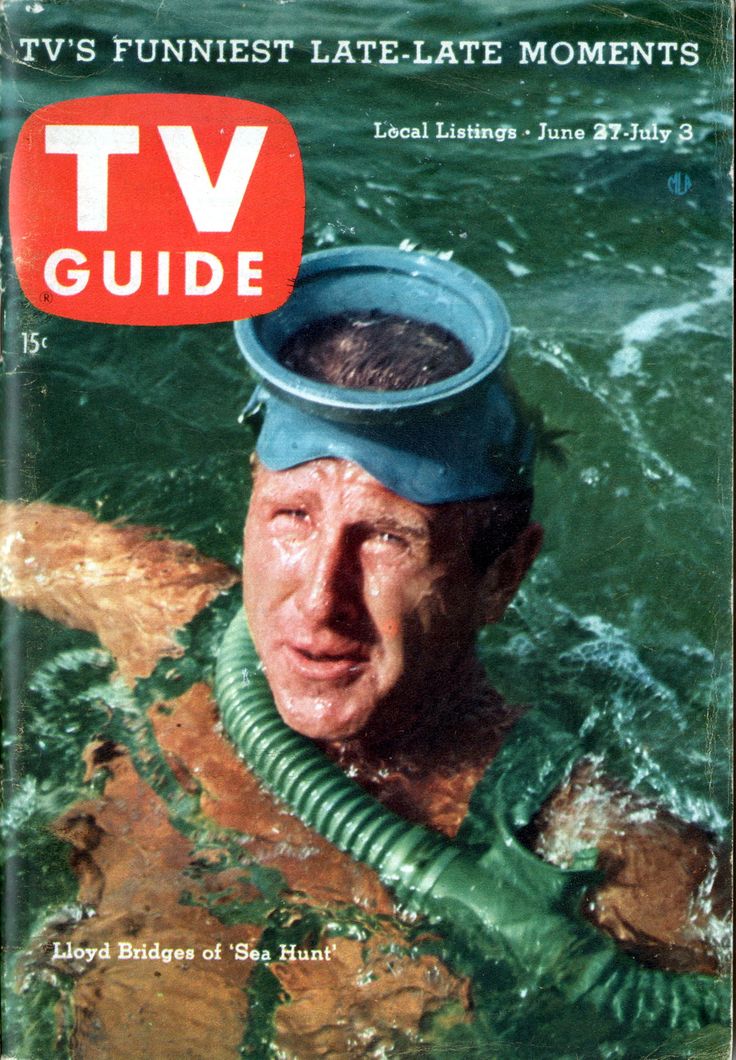 Lloyd Bridges of 'Sea Hunt' fron TV Guide
From my childhood in the early 1960's, I was mesmerized by deep sea diving.

Movies and television were capitalizing on technology developed during WWII which had recently been made available for the first time to recreational divers. The Undersea World Jacques Cousteau, National Geographic Specials, and James Bond's Thunderball, captivated audiences and flamed underwater exploration. But by far, my favorite was, Sea Hunt with Lloyd Bridges, who played former Navy frogman 'Mike Nelson'. My goal when I enlisted in the Navy in 1975 was to become a Navy Diver; but my scores on the Armed Services Vocational Aptitude Battery (ASVAB) test were too low. So I joined with the hope I could, over time, improve those scores. After 10 years, I had finally gained a coveted seat at the Navy Diving & Salvage School, Coronado, California. But in the late spring of 1985, having failed the same test twice, an Academic Review Board rendered its decision: "Dis-enrolled due to lack of analytical ability". Navy-speak for, he doesn't have the intellectual capacity. It appeared my life-long dream of becoming a Navy Deep Sea Diver was over, a mere 3 weeks after it had begun.

Shortly after my ego bruising failure, I watched a documentary on the life of Master Chief/Master Diver Carl Brashear, USN (Ret), the 1-legged Navy Diver whose story of courage and determination would be told in the movie Men of Honor, starred Oscar winners, Robert De Niro and Cuba Gooding Jr. Like me, Master Diver (MDV) Brashear loved being underwater as a boy and long aspired to become a Deep Sea Diver. After over 100 requests, Brashear was finally admitted to Navy Dive School in 1954, where he was subjected to countless acts of racial discrimination and bigotry. By stoically refusing to buckle under the added pressure and working diligently to overcome his 7th grade education, Carl Brashear became the first black man to graduate from Navy Dive School. But it was Brashear's dogged determination to retain his diving qualifications after losing a leg that was the catalyst for inspiring me to reapply to Navy Dive School in 1987.

The process of qualifying for and gaining accepted to Dive School is DAUNTING. Applicants are subjected to a comprehensive battery of physical tests and academic screening. That process is exponentially more challenging for those applicants who failed previously. The number of dis-enrolled applicants granted a second chance is negligible. However, the inspiration provided by one of the MDV's often repeated quotes, "It's not a sin to get knocked down, it's a sin to stay down", sustained me through the application process and continued to motivate me when I finally made it back to Navy Dive & Salvage Training Center, Panama City, FL where I finally graduated as a Second Class Deep Sea Diver in September 1987.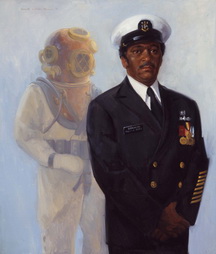 Portrait of MDV Carl Brashear by Annette Adrain Hanna
Years later, while assigned as the Chief Petty Officer in charge of Navy Recruiting Station, Salisbury, MD, and my own Navy career was coming to a close, I took pause to reflect on how dramatically my life had changed because of MDV Brashear's example. Not only had I achieved my lifelong dream, I had become exponentially more confident having overcome failure to earn the coveted Navy Dive Pin which I wore proudly on my uniform every day. It was then that I decided to write a letter to the Master Diver to thank him for inspiring me to achieve one of my life's greatest dreams.

In the days before the internet, I somehow managed to find MDV Brashear's address in Virginia Beach, VA and his home phone number. And so, 6 years before the movie about his life was released, with a trembling finger I dialed his number. When he answered the phone and I asked if I was speaking to MDV Brashear, in a calm, deep voice that resonated seemingly from the depths, he said that it was. Even though I was nearly awestruck by speaking to a Navy legend, I reminded myself we were both Deep Sea Divers and Chief Petty Officers, so I introduced myself and told him my story including how his story had inspired me. When I finished, I said, "Master Diver, I'm just a few hours away in Maryland. I'd love to drive down and buy you a beer at the CPO Club on Naval Amphibious Base, Little Creek, VA".

"Well Tony, I don't drink these days, but I do enjoy a good hamburger", the MDV replied.

And so, I scheduled a day to drive down to Virginia Beach, and met for the first time, a living legend, and one of my personal heroes. We had hamburgers at the Fuddruckers in Virginia Beach; he was impressed and thought it was a great place. Over the years, I visited with the Master Diver several more times, I took my children and a few friends to meet him, and came to know him on a personal level. We even discussed why he preferred Cuba Godding Jr. to the other actor in consideration for the lead role, Denzel Washington.

"Tony", the MDV said, "Denzel too pretty to be a Navy Diver!" Then he roared with laughter.

Master Diver Carl Brashear died in August 2006, just 6 years after the 2000 release of Men of Honor. Through the movie's successful telling of his story, Brashear's courage and determination has inspired countless men and women, boys and girls to live their dreams. He will continue to inspire through the words inscribed on his grave marker, "I ain't gonna' let nobody steal my dream". HOOYAH Master Diver, thanks again for your example, it has forever changed my life and will inspire me to push through failure for the rest of my life.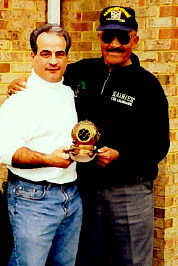 MDV Brashear and Tony Palm at the Brashear home in VA Beach Circa 1998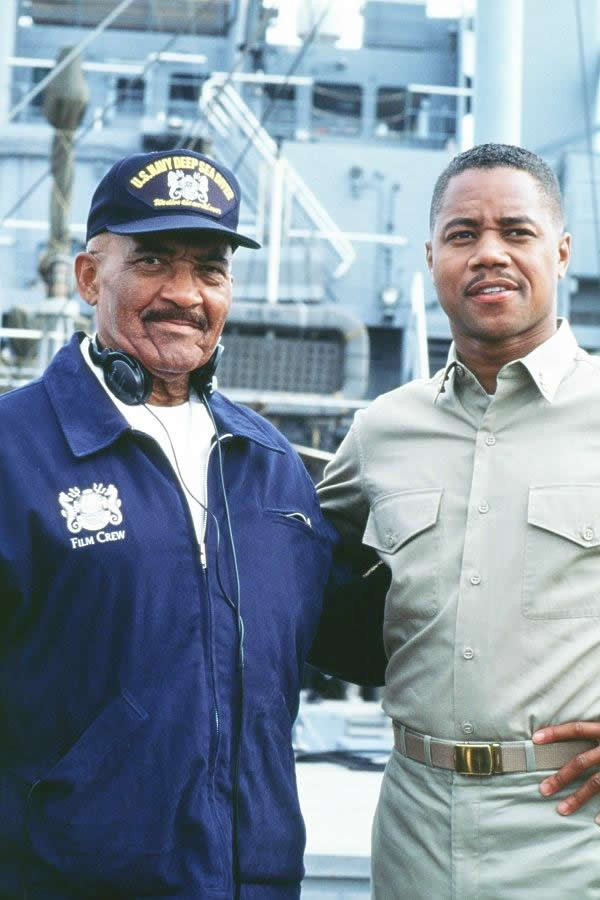 MDV Brashear and Cuba Gooding on the set of Men of Honor