Black History Month Celebration – Bureau of Naval Medicine
The Bureau of Naval Medicine celebrated Black History Month on February 19, 2008, with an observance in Washington, D.C.
On hand as the keynote speakers were Vice Admiral Adam M. Robinson, Jr., and CW4 Phillip Brashear. Vice Admiral Robinson spoke about his life experiences and the importance of "staying grounded" in achieving your goals. Phillip gave insight to the type of father Carl Brashear was, and the influence his dad had on him in reaching his goals. Afterwards, many had the opportunity to ask Phillip questions ranging from the movie, "Men of Honor", to key tips of advice left to Phillip by his dad.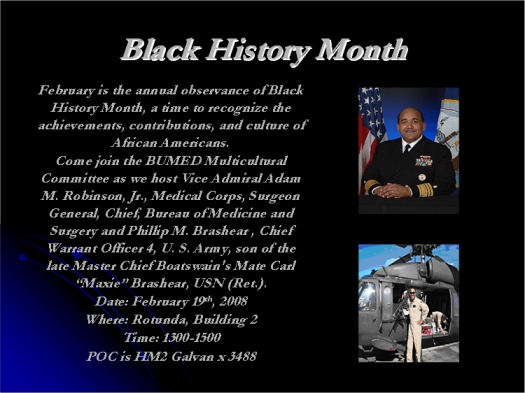 The Black History Showcase – Pennsylvania Convention Center
February 16 and 17, 2008, marked the fifth annual Black History Showcase at the Pennsylvania Convention Center in downtown Philadelphia.
Dawayne and Phillip had a wonderful display of their father, the late Master Chief and Master Diver Carl M. Brashear. Historic pictures, video clips, and even an authentic diver's helmet awed the spectators as they viewed the display area. Information was also on display about the newly created foundation and the goals it will try to achieve. Everett Staten, Founder of the event, met Phillip Brashear during the event in 2007. Phillip was just returning from duty in Iraq and was out-processing at nearby Fort Dix in New Jersey. Upon their meeting and follow-on conversation, the offer was extended by Mr. Staten to have Carl Brashear added to the showcase.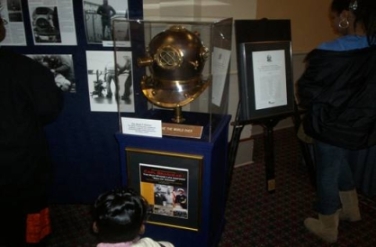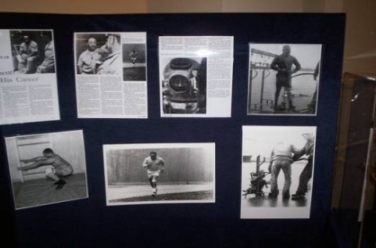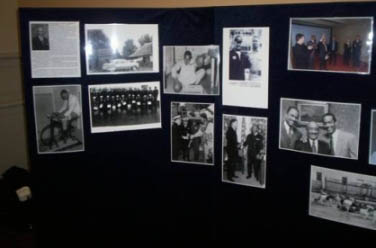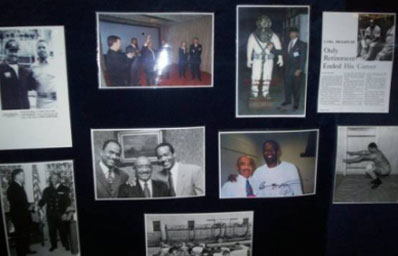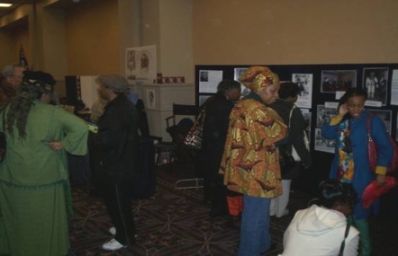 Dedication of Carl Brashear fireboat
October 24, 2007 - Hampton Roads, VA
The fire department received a grant from the Department of Homeland Security to purchase the 33-foot boat which cost almost $400,000, the release says.
The Virginia Port Authority and state Department of Fire Programs also contributed. The boat is capable of going 37 knots and has a pump that can squirt up to 2,400 gallons of water a minute on a fire, the release says. The Carl Brashear also has side scanning sonar, a thermal imaging system and global positioning satellite technology.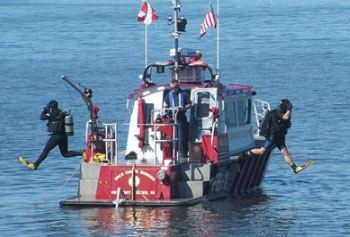 Divers exit the Carl Brashear for duty in the James River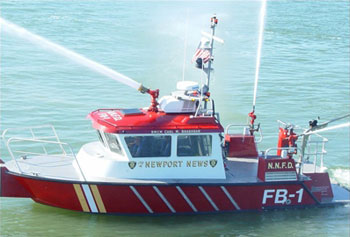 Fireboat Carl Brashear displays its fire-fighting muscle during a display on the James River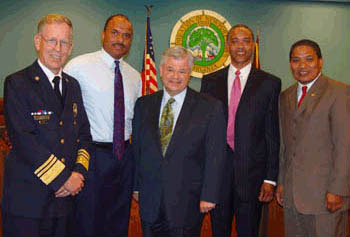 Pictured (left to right): Fire Chief, Kenneth Jones, Phillip Brashear, Newpor News Mayor, Joe S. Frank, Dawayne Brashear, VA Secretary of Public Safety, John Marshall
14th Annual Khaki Ball - Groton Area Chief Petty Officer Association
September 29, 2007 - Groton, Connecticut
On September 29th, 2007, the Groton Area Chief Petty Officer Association held its annual Khaki Ball honoring the accomplishments and induction of the Navy's newest Chief Petty Officers for the entire Submarine Base.
This year the committee met and decided to honor the most distinguished member of the class with a new Master Chief Carl Brashear Award. This award was given to Chief Petty Officer Gordon A. Smith for his exceptional valor and fortitude he exhibited during his E-7 qualification course to wear the uniform of a Navy Chief. Presenting this award to Chief Smith was two of Master Chief Brashear's sons, Dawayne and Phillip. Phillip, who is a Chief Warrant Officer Four in the Army, was in uniform as he addressed the crowd before the presentation of the award. The Chief Petty Officer Association sponsored the trip for Dawayne and Phillip to be present for this annual event. Dawayne and Phillip also donated historic Carl Brashear memorabilia to the Chief's club which is presently under construction at the Groton Submarine Base for their Carl Brashear display case.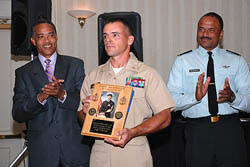 Dawayne Brashear (left) and Phillip Brashear (right) present Chief Gordon A. Smith the Carl Brashear Memorial Award for his outstanding display of honor, courage and commitment.
Patriot Guard Riders in Hampton Roads, VA: Special Mission - Tribute to Carl Brashear
In honor of the life of Carl Brashear, the Patriot Guard Riders presented the Brashear Family and Estate a Patriot Guard Riders Honor Plaque.
Chief Warrant Officer (CWO) Phillip Brashear, USANG, will be on hand to accept the plaque as well as to present a United States Flag that was flown with Phillip while serving with the ARNG in Iraq.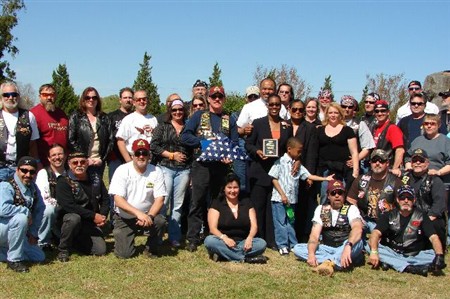 American Association of Community Colleges
April 14-17, 2007 - 87th Annual Convention, Tampa Florida
On April 16th, 2007, Master Chief Boatswain's Mate, Master Diver Carl Brashear was honored as an outstanding alumni of the American Association of Community Colleges at the Waterside Marriott ballroom during the Gala Dinner in Tampa, Florida.
Brashear was nominated for this award by both Tidewater Community College of Virginia and the College of Southern Maryland. This was the first time an outstanding alumnus was nominated by two different schools at the same time. Receiving the honors on the behalf of their famous father was two of his sons, Dawayne and Phillip. Phillip, who just returned from a tour of duty in Iraq a month prior to the Gala activities, also has academic ties to Tidewater Community College in Virginia.