African-American Heritage Parade
(The following is an excerpt from the official Newark, New Jersey Press Release)
Newark, NJ – May 24, 2009 – Mayor Cory A. Booker, Governor Jon. S. Corzine, African-American Heritage Parade Committee Chairman Donald Bernard, Honorary Grand Marshals Reverend Levin B. West and Pastor Dolores A. Watson and other city, county and state dignitaries led the 43rd Annual African American Heritage Statewide Parade up Broad Street from Lincoln Park to Military Park today in New Jersey's largest celebration of African American heritage.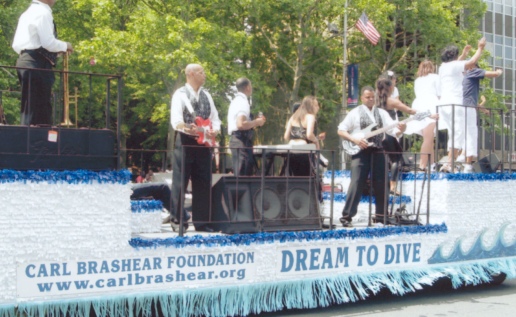 African-American Heritage Parade
Governor Corzine emphasized how important it is to pay tribute to our state's African American Heritage and said, "I am so proud to be Governor of a state which is so rich in diversity. We have so much to be proud of and as a country we are still celebrating the fact that our first African American President Barack Obama is in the White House. Yesterday President Obama announced his plans to nominate former space shuttle commander and Retired Marine Corps.General Charles F. Bolden as the first African American Administrator of NASA."
"Thanks to the leadership and determination of Donald Bernard, Sr. we are all gathered here today to honor our ancestors and remember the people who bled and sacrificed in order for us to enjoy the privileges we currently have," said Mayor Booker. "Newark is a special city which goes back before the founding of our nation and many of Newark's natives such as Master Chief Carl Brashear, Sarah Vaughn, and Paul Robeson stand out in history because of their extraordinary lives and the struggles they overcame to break the odds and move our country forward."
After receiving a proclamation from Mayor Booker, Donald Bernard, Sr., who is now serving his 17th year as Chairman of the African American Heritage Parade and Festival committee said, "This profound annual gathering restores and instills culture, history and pride in the African American community through education and entertainment. It is with this in mind that we celebrate this year's parade and festival under the theme 'Communal Spirit, Love and Respect and Soul Connection' because our committee understands that as we pay homage to our African past that we are fostering the antidote to this crisis in our community which motivates acts of violence and lack of unity."
This year's parade honored the late US Navy Master Chief Carl M. Brashear, who overcame both racial prejudice and the amputation of his left leg to become the first African-American master diver in Navy history, winning a dozen medals in his 31-year Navy career. Master Chief Brashear's life became the subject of the Cuba Gooding Jr.-Robert De Niro movie "Men of Honor." The late Master Chief Brashear was a Newark native and was represented by his family who marched in the parade, led by his two sons DaWayne and Phillip Brashear and his granddaughter, Lauren Brashear, who is a Newark Municipal Court employee.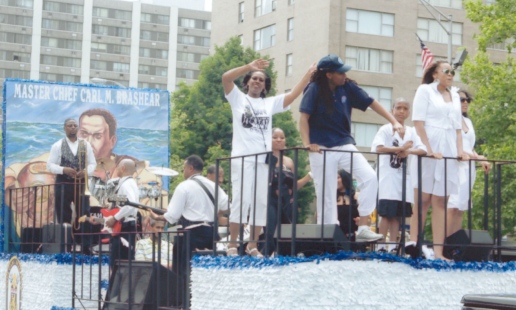 African-American Heritage Parade
Mayor Booker also presented a city proclamation to the family of Master Chief Carl Brashear and said, "The life of Master Chief Brashear should be an inspiration to us all and stands as an example for Americans of all generations because it speaks to the power of the human spirit."
U.S. Army Chief Warrant Officer Phillip Brashear acknowledged that he was inspired by his father and the Tuskegee Airmen to follow his career as a military helicopter pilot, "It's wonderful to know that my father left such a legacy that people still remember him three years after his death and still honor him for the life that he lived. I never knew my father had such an impact on people until the movie came out and it's a tribute to our American society that we honor those who have paved the way for the lives that we are able to live today."
DaWayne Brashear said, "My father always wanted us to do better than he did. His diving helped him to support the family but he encouraged us to go to college and get an education because when he entered the Navy he only had a 7th grade education. My father's great advice for us when we were growing up was "Don't let anybody steal your dream."
Master Chief Brashear's granddaughter Lauren Brashear is part of a select society that can christen naval vessels and serves as an adviser to the Master Chief Carl M. Brashear Foundation which hopes to bring the new interactive exhibit "To Dream to Dive" which chronicles the entire life of Carl Brashear to Newark sometime later this year.
The Honorary Grand Marshals were Reverend Levin B.West, Sr., Pastor of Grace Reformed Baptist Church and Pastor Dolores A. Watson of the First Congregational Christian Church for their many outstanding career achievements, and for his continuous, numerous contributions to the community. Parade Grand Marshall's for 2009 are both selected by the AAHPC for their noteworthy and significant commitment to educational excellence for youth in the Newark community and abroad.
Highlights of the 43rd Annual African-American Heritage Parade can be seen on the City of Newark's Municipal Government Television Station Channel 78. Please check program listings for broadcast times or call the Newark Non-Emergency Call Center at (973) 733-4311.
The Brashear Conference Center
On April 1, 2009, the Little Creek Naval Amphibious Base located in Virginia Beach, Va. opened their newest conference center. The building formerly known as the Chief Petty Officer's Club, endured a complete $880,000 renovation and was named the Brashear Conference Center in honor of the late Master Chief and Master Diver Carl Brashear. The new conference center boasts a large ballroom with seating up to 500 and a Room of Honor with seating up to 130.
The Commanding Officer of Little Creek, Captain William Crow was present to dedicate the building in style. During his address to the crowd of over 200 sailors and civilians, he commented on what he and Master Chief Carl Brashear had in common; the were both native Kentuckians from sharecroppers families. Phillip was given the opportunity to address the crowd on what the new honor meant to him and his family. Also present were Phillip's wife Sandy, her uncle Randy Pritchett and his wife Grace, Minister Carl Jones, and family friend Jean Jeffrey. A special guest of honor was present, Retired Master Chief and Master Diver K. Lemount King, who also addressed the crowd. Also in the crowd was a modest guest of honor, Retired Master Chief and Master Diver Mike Washington. Both of these men were long-time friends and students of Carl Brashear. During the ceremony, an official plague was unveiled that will be placed in the front of the center for all to see. After the formal festivities were over, many stayed and greeted the family and presented their well-wishes.
The ceremony coincided with the 116th birthday of the rank of Chief in the Navy and the 30th anniversary of the retirement of Carl Brashear which was also held at Little Creek AMPHIB Base. Little Creek was home to Carl Brashear after he retired from the Navy and he was a regular at the base's facilities ranging from Boone Clinic, the commissary, the Navy Exchange, the diving units, and the gym. The Chapel at Little Creek and Chief's Club hosted and catered the funeral for Carl Brashear when he passed in July 2006. The Little Creek Amphibious Base will always be an honored site for the Brashear Family. Little Creek was the first home for the Brashear family in 1965 when Carl and wife Junetta moved into base housing.
Warrior Transition Battalion – Ft Knox, Kentucky
The Warrior Transition Battalion Unit Ministry Team headed by Chaplain (MAJ) Jim Boyle and SGT Anita Ellerbe welcomed Phillip Brashear to Ft Knox Kentucky March 18, 2009.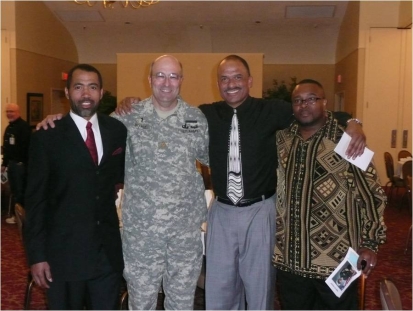 Farley Brashear, Chaplain Boyle, Phillip Brashear, and Lawrence Wade
Phillip arrived at Ft Knox around 2pm on March 18th and hit the ground running with Chaplain Boyle visiting soldiers in the Ireland Army Community Hospital, the Warrior Transition Battalion, the 5th Squadron, 15th Cavalry Regiment Bible Study group (at the O'Neil Chapel) and eventually addressing the Soldiers and family of the graduating class of new Armored Cavalry Scouts, (Bravo Troop, 5th Squadron, 15th Cavalry) at the Leader's Club during their evening celebration. The next day included another trip to the WTB meeting and motivating soldiers during the morning Office call was held between Phillip and CSM Randy Bottoms until it was time for the first formal activity of the trip. Philip attended the graduation of B Troop 5-15th Blackjacks. At noon, the Warrior Transition Battalion held a Prayer Luncheon at the Ft Knox Leader's Club where Phillip was the main keynote speaker for the event. On hand were two of Phillip's Kentucky cousins in the persons of Farley (Red) Brashear and Lawrence Wade. Chaplain Boyle made comment to the crowd on hand that Farley is set to return to the Army on active-duty. During Phillip's keynote address, he reflected on his famous father, Carl Brashear and his own distinguished career as an Army helicopter pilot. WTB Commanding Officer, LTC Gary Travis spoke after Phillip's comments and echoed the need for unity in these tough times in America. After the luncheon, Phillip was given the ability to address a large crowd of active–duty soldiers at the Ft Knox Wayburn Theater for a Leadership seminar conference. Phillip presented a well-received slideshow of his father's legacy and Phillip's time in Iraq.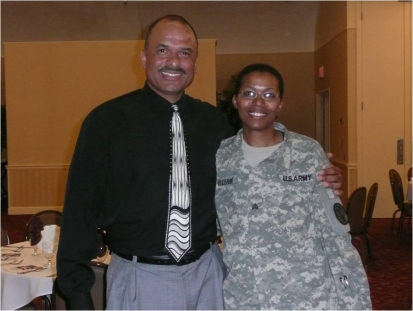 Phillip Brashear and SGT Anita Ellerbe
The major significance of this trip was the fact that Ft Knox, Kentucky (Hardin County) is extremely close to the site where Phillip's parents, Carl and Junetta Brashear were born and raised. The Ft Knox community was well aware of this fact and it made the whole trip more special for the soldiers and Phillip. Chaplain Boyle and SGT Ellerbe accommodated Phillip with such kindness and even acquired quarters for him at the legendary Henry House during his stay. Mrs. Boyle even brought snacks foods to the house for Phillip to enjoy. With all of that being said, it was the soldiers that were the main focus of this trip. The WTB is set up for the health and welfare of soldiers going through change in their life because of pre-deployment or post-deployment trauma. These are the true heroes that Americans should focus on. Carl Brashear is a true American hero but he does have plenty of company within our current military force.