Sponsors and Donations
New Commemorative Coin Honoring Master Chief and Master Diver Carl M. Brashear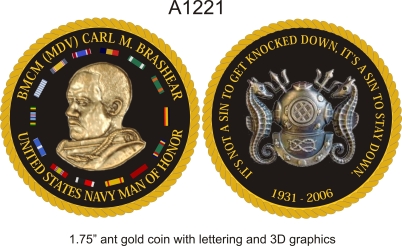 The Carl Brashear Foundation, headed by his son Phillip Brashear, is proud to announce the release of a commemorative coin in honor of the extraordinary life of this American Hero. The Carl Brashear Foundation is a non-profit organization developed to keep the name and life of Carl Brashear prominent to future generations. The coin will serve as the centerpiece of revenue building for the Carl Brashear Foundation for student scholarships, American Veteran Hospital donations, congratulatory gifts for returning American Warfighters, and handicapped individuals throughout our country.
With each donation of $25 through the Carl Brashear Foundation, you will receive a serial numbered coin and a Letter of Authenticity signed by Phillip Brashear, President of the Carl Brashear Foundation.
The Carl Brashear Foundation is an Internal Revenue Service 501(c)(3) Tax Free Public Charity. Our foundation complies with all statutes concerning the operation of a public charity in accordance with Internal Revenue code. We are also incorporated through the state of Virginia Corporation Committee. For our United States Government and US military customers, we are also registered through the Contractor and Government Entity (CAGE) code system. The foundation's CAGE is 5CB92. Please feel free to use it for speaking, lecture, displays, and other requests.
IRS Documents
Document 1
Document 2
Document 3
Document 4
If you would like to make a donation to Carlbrashear.org, please click on the donatebutton below.
For verification purposes, our tax identification number is 26-1181975.
All donations are accepted through secure PayPal transactions (credit card, debit card, electronic check, PayPal account transfer).
Or, checks can be mailed to P.O. Box 293, Sandston, VA 23150
The Carl Brashear Foundation account is with the Navy Federal Credit Union. Carl Brashear was a long-time member of the Navy Federal Credit Union, and they welcomed the honor of housing the Carl Brashear Foundation account. Contact the Navy Federal Credit Union by using their website www.navyfcu.org, or mailing them at: Navy Federal Credit Union, P.O. Box 3000, Merrifield, VA 22119-3000
If making a donation through the PayPal link below, please be sure to give us your address so that we know where to send your coin! Thanks!
Current Sponsors
BAE Shipbuilding Norfolk, VA
Colley Avenue Copies and Graphics Inc. of Norfolk, VA
Lockheed Martin Center for Innovation
Nauticus Maritime Center Norfolk, VA
Oris Watch Manufacturing of Switzerland
The Warrior Transition Battalion, Fort Knox, KY
Tri City Video Taping of Hopewell, Virginia
Virginia Farm Bureau, Richmond, VA
Wolfman Productions of Sandy Hook, CT

Menu
External Links